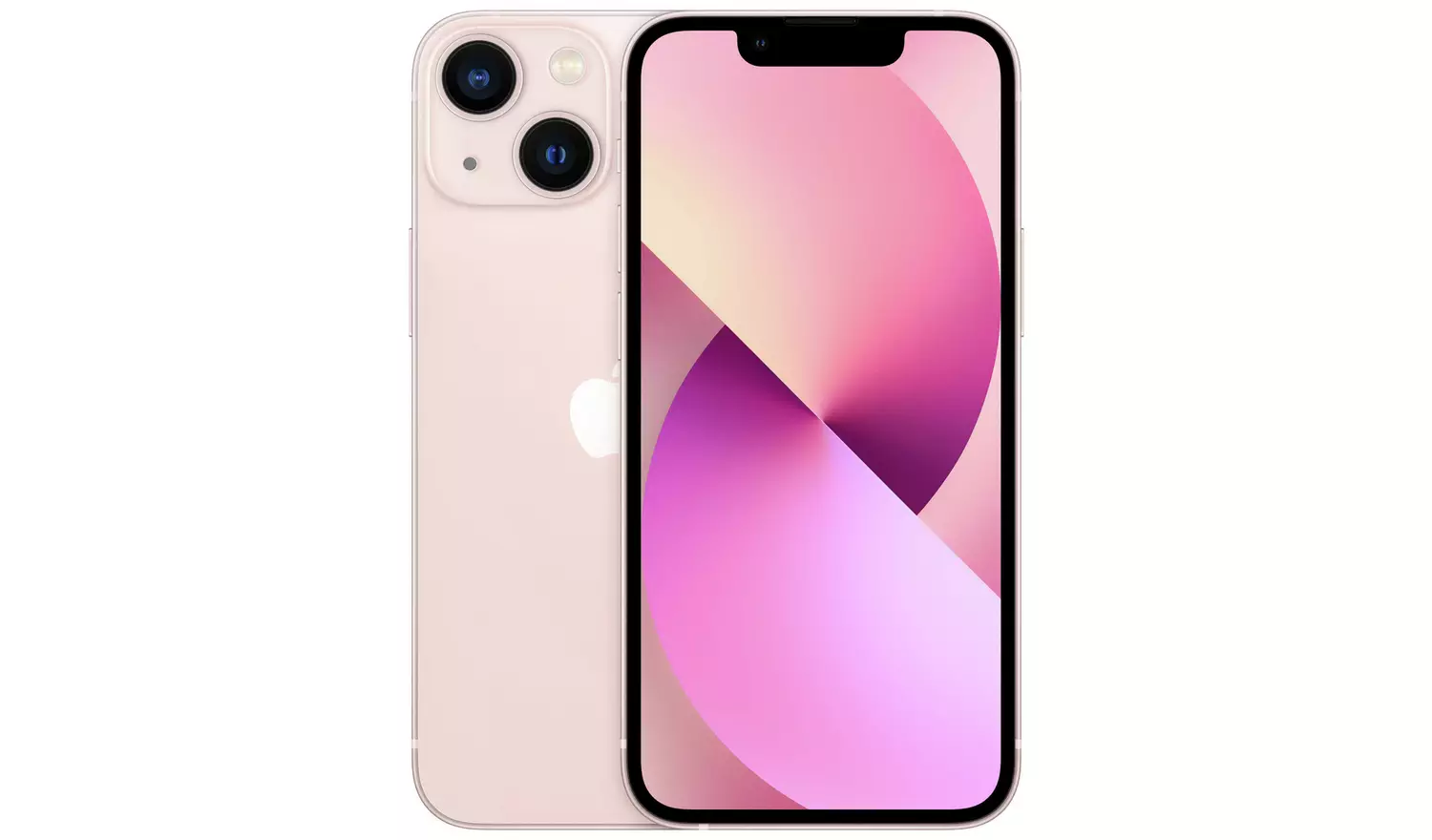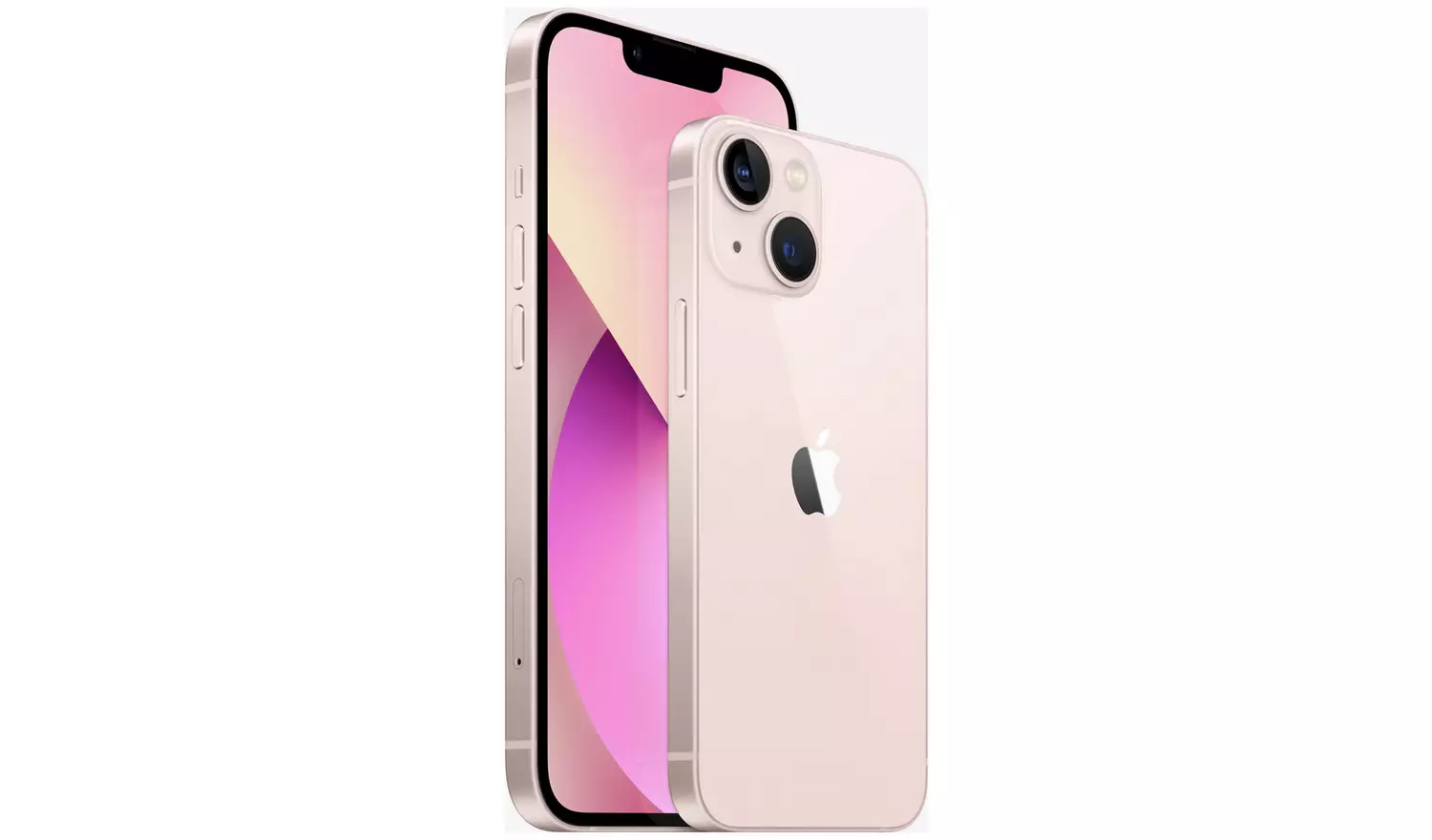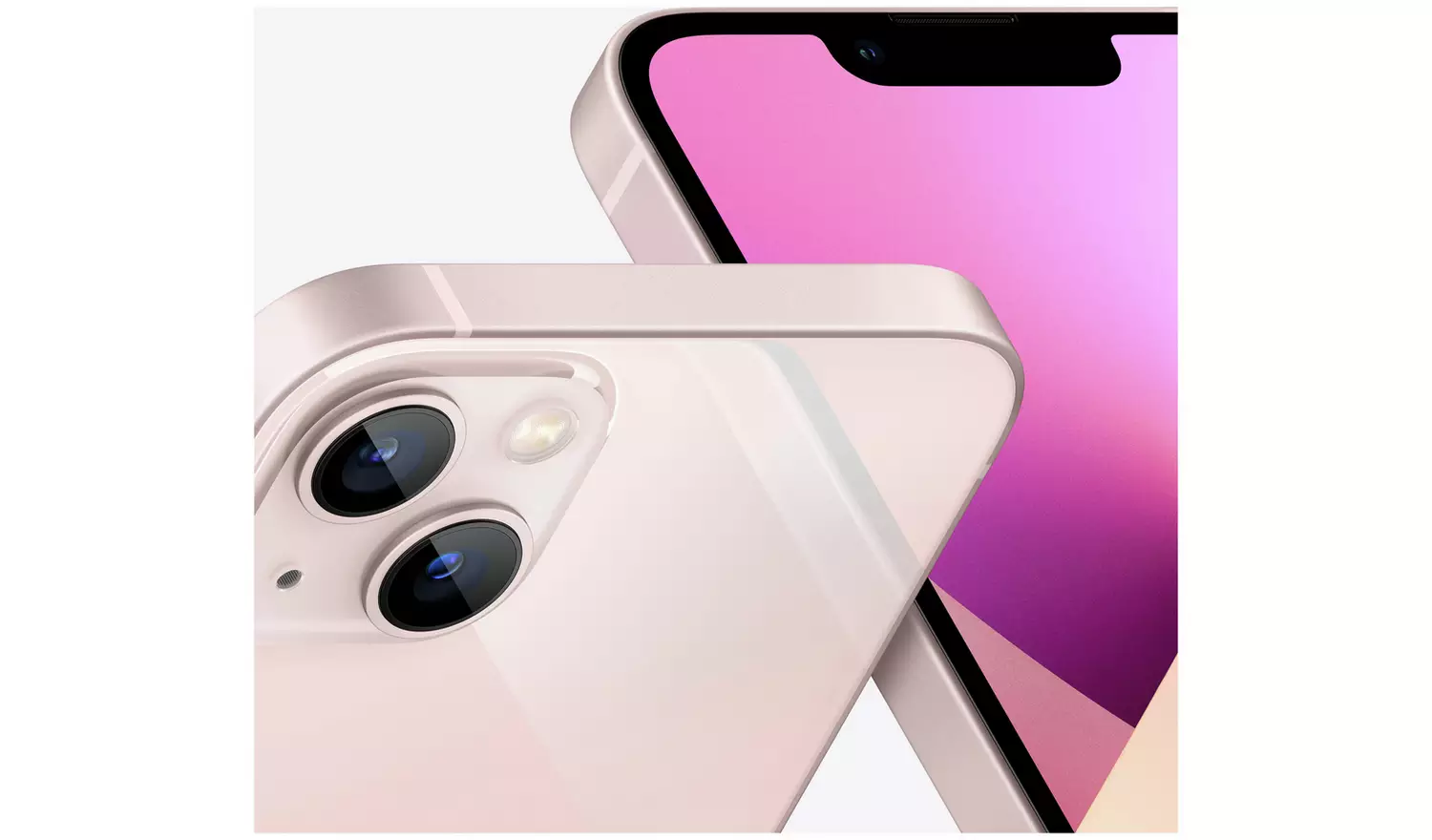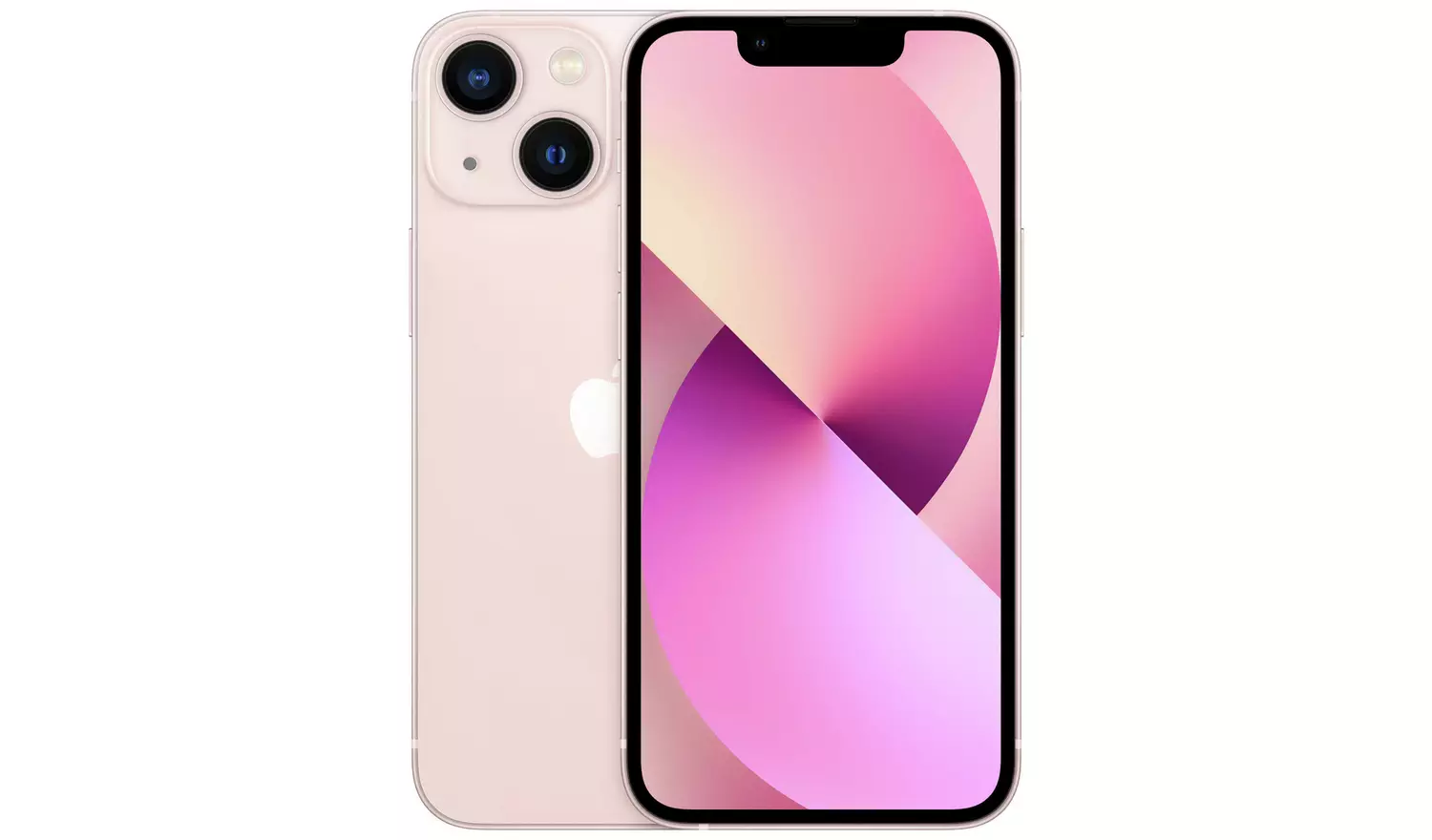 Apple iPhone 13 mini, iOS, 5.4″, 5G, SIM Free, 128GB, Pink
Description
Apple iPhone 13 mini, iOS, 5.4″, 5G, SIM Free, 128GB, Pink
Everything you know and love about the iPhone made better. Apple has kitted out the newest iteration of the mini with their most advanced dual-camera system yet, along with a lightning-fast chip that makes browsing, gaming, and video calling a cinch. Encased in a durable, flat-edge design that's water-resistant, it's protected from the bumps and knocks of everyday life. All this, and they've still managed to fit in a bigger battery that'll see you through the day and well into the night.
5G enabled
Get ready for the next generation of mobile internet and experience incredible download speeds, or play games without the fear of lag. Please contact your mobile service provider regarding the 5G options currently available to you.
Super Retina XDR display
Now 28% brighter than predecessors, the super-bright OLED display makes scrolling, liking, reading, and just about everything, easier when you're out and about. Ultra-high pixel density means photos, videos and text look extra-sharp, and the display is even more expansive, thanks to a smaller TrueDepth camera area.
You've never looked so good on screen
Just about everything on the iPhone 13 mini's camera has been upgraded. The new dual setup reveals more detail in the dark areas of your photos, along with image stabilisation tech that keeps shots steady even when you're not. Night Mode now features on the front-facing camera, meaning better selfies after sundown, and Photographic Styles apply your preferred Tone and Warmth settings to your photos automatically.
When filming, capture cinema-style moments with the new Cinematic Mode that adjusts focus automatically as you record; even allowing you to edit the depth effect when the shoot's over. HDR video with Dolby Vision lets you shoot home movies in 4K & 60fps, while Deep Fusion helps capture even the subtlest textures, patterns and details.
Lightning speed
The lightning-fast A15 Bionic is a speed-boosting, camera-elevating, reality-augmenting, power-optimising, privacy-protecting, game-changing chip. The updated CPU and GPU makes tackling processor-heavy tasks a cinch; helping you make the most of the features like Live Text, Apple ProRAW and 4K Dolby Vision video.
Designed for living
Safeguarding against unexpected bumps and knocks, the Ceramic Shield is tougher than any smartphone glass, whilst the fingerprint-resistant coating helps keep your phone looking glamorous. IP68 water resistance also means there's no need to worry if you accidentally drop it in the bath either. We still don't recommend taking a dip with this device, however.
A battery that lasts all day, and then some
The iPhone 13 mini lasts more than 1.5 hours longer than the iPhone 12 mini. You'll be able to run apps like YouTube for over 13 hours without the need to grab the nearest charger, and if you're listening to music or an audiobook, it's even longer at 55 hours.
Wireless charging
If you own a MagSafe or Qi wireless charging pad (sold separately) you can enjoy effortless powering up – just connect or place your iPhone 13 mini onto the pad as usual to commence.
| Winner Name | Ticket Number | Draw Date |
| --- | --- | --- |
| Chloe Raisey | 521 | 24/08/2022 |
1-100
101-200
201-300
301-400
401-500
501-600
601-700
701-800
801-900
901-1000
| Ticket Number | Date | Name |
| --- | --- | --- |
| 1 | 2022-08-17 18:32:27 | Leia Tiar |
| 2 | 2022-08-19 07:25:06 | Leah Mowatt |
| 3 | 2022-08-17 19:14:29 | Stephanie Gallant |
| 4 | 2022-08-17 23:16:45 | Gemma Botham |
| 5 | 2022-08-21 08:13:12 | Pamela Forester |
| 6 | 2022-08-17 22:44:48 | Katya Phippen |
| 7 | 2022-08-18 14:21:16 | Joyce Cunliffe |
| 8 | 2022-08-17 22:44:48 | Katya Phippen |
| 9 | 2022-08-17 22:48:43 | Tahlia Cook |
| 10 | 2022-08-17 23:16:45 | Gemma Botham |
| 11 | 2022-08-18 17:10:57 | Abby Highgate |
| 12 | 2022-08-21 17:00:42 | Amanda Callard |
| 13 | 2022-08-18 10:48:06 | Kristy Taylor |
| 14 | 2022-08-21 10:26:48 | Katie Donaldson |
| 15 | 2022-08-23 07:33:00 | Catherine Marsh |
| 16 | 2022-08-17 19:14:29 | Stephanie Gallant |
| 17 | 2022-08-17 12:07:23 | Liz Muir |
| 18 | 2022-08-19 09:43:17 | Grace Bervoets |
| 19 | 2022-08-19 04:59:54 | Samantha Collett |
| 20 | 2022-08-18 14:21:16 | Joyce Cunliffe |
| 21 | 2022-08-21 23:33:42 | Siobhan Wilcock |
| 22 | 2022-08-23 16:51:42 | Melissa Ashley |
| 23 | 2022-08-23 11:12:08 | Aimee Rowbotham |
| 24 | 2022-08-17 17:09:09 | Danger mouse |
| 25 | 2022-08-17 19:14:29 | Stephanie Gallant |
| 26 | 2022-08-20 08:54:22 | Harriet Cummings |
| 27 | 2022-08-20 08:54:22 | Harriet Cummings |
| 28 | 2022-08-19 06:56:54 | Robert Saunders |
| 29 | 2022-08-23 22:43:32 | Ben Stocker |
| 30 | 2022-08-24 15:53:05 | Jane Sharland |
| 31 | 2022-08-24 12:43:35 | Joseph Clifford |
| 32 | 2022-08-22 14:07:43 | Charity Bagwell |
| 33 | 2022-08-22 20:05:44 | Agnes Newman |
| 34 | 2022-08-22 14:07:43 | Charity Bagwell |
| 35 | 2022-08-24 14:03:39 | Rachel Scott |
| 36 | 2022-08-20 08:54:22 | Harriet Cummings |
| 37 | 2022-08-21 21:40:17 | Lori Callow |
| 38 | 2022-08-24 07:30:25 | Linda Beer |
| 39 | 2022-08-23 07:25:51 | Linda Beer |
| 40 | 2022-08-20 12:51:12 | Jill Higham |
| 41 | 2022-08-23 20:49:21 | Vikki Gyde |
| 42 | 2022-08-24 18:52:35 | Shelly Barwick |
| 43 | 2022-08-24 12:48:17 | James Sheffield |
| 44 | 2022-08-24 16:21:21 | Christine Swift |
| 45 | 2022-08-24 16:16:19 | Usher Prowse |
| 46 | 2022-08-24 15:06:35 | Kerry Roach |
| 47 | 2022-08-20 08:54:22 | Harriet Cummings |
| 48 | 2022-08-24 19:12:31 | Catherine Marsh |
| 49 | 2022-08-24 11:55:47 | phyllis steer |
| 50 | 2022-08-22 18:38:37 | Michael O'connor |
| 51 | 2022-08-23 21:16:25 | Kellie Flaherty |
| 52 | 2022-08-24 20:18:45 | Tina Bylett |
| 53 | 2022-08-17 11:17:18 | Anna Parker |
| 54 | 2022-08-22 19:46:54 | Eve Holleran |
| 55 | 2022-08-24 19:00:09 | Robynne Wilson |
| 56 | 2022-08-20 14:29:22 | Paul Goodenough |
| 57 | 2022-08-24 19:00:09 | Robynne Wilson |
| 58 | 2022-08-24 19:39:29 | Emily Rapson |
| 59 | 2022-08-18 20:14:34 | Sam Harper |
| 60 | 2022-08-23 18:03:47 | Sophie Walsh |
| 61 | 2022-08-24 20:44:08 | Emma-lee Wilson |
| 62 | 2022-08-24 13:59:45 | Lesley Foy |
| 63 | 2022-08-24 16:16:19 | Usher Prowse |
| 64 | 2022-08-24 15:35:50 | Nicola Bird |
| 65 | 2022-08-24 12:13:04 | Luck Please |
| 66 | 2022-08-24 15:38:53 | Vanessa Micklewright |
| 67 | 2022-08-24 18:33:38 | Marny Stocker |
| 68 | 2022-08-24 18:52:35 | Shelly Barwick |
| 69 | 2022-08-23 18:57:59 | Julie Wright |
| 70 | 2022-08-24 16:16:19 | Usher Prowse |
| 71 | 2022-08-23 12:34:51 | Sharon lee |
| 72 | 2022-08-17 22:12:50 | Schalk Buys |
| 73 | 2022-08-24 12:48:17 | James Sheffield |
| 74 | 2022-08-22 18:38:37 | Michael O'connor |
| 75 | 2022-08-20 08:54:22 | Harriet Cummings |
| 76 | 2022-08-24 17:00:37 | Toby BAMSEY |
| 77 | 2022-08-24 17:22:55 | Philippa Smith |
| 78 | 2022-08-24 19:12:03 | Karen Lee |
| 79 | 2022-08-23 15:40:11 | Zoe Walmsley |
| 80 | 2022-08-24 16:16:19 | Usher Prowse |
| 82 | 2022-08-24 16:59:50 | Michael Castles |
| 83 | 2022-08-17 21:44:30 | Lou Lister |
| 84 | 2022-08-23 12:59:38 | Heather Baker |
| 85 | 2022-08-24 12:38:50 | Philippa Smith |
| 86 | 2022-08-23 07:14:56 | Jessica Pearce |
| 87 | 2022-08-24 17:22:55 | Philippa Smith |
| 88 | 2022-08-24 15:38:53 | Vanessa Micklewright |
| 89 | 2022-08-24 19:00:09 | Robynne Wilson |
| 90 | 2022-08-24 17:00:37 | Toby BAMSEY |
| 91 | 2022-08-24 16:16:19 | Usher Prowse |
| 92 | 2022-08-24 06:30:31 | Betty Boop |
| 93 | 2022-08-24 15:38:53 | Vanessa Micklewright |
| 94 | 2022-08-23 07:33:00 | Catherine Marsh |
| 95 | 2022-08-24 12:48:17 | James Sheffield |
| 96 | 2022-08-24 14:48:21 | Khadine Coyle |
| 97 | 2022-08-24 06:30:31 | Betty Boop |
| 98 | 2022-08-23 18:18:33 | Victoria Bird |
| 99 | 2022-08-21 23:35:18 | Leia Tiar |
| 100 | 2022-08-23 11:12:08 | Aimee Rowbotham |