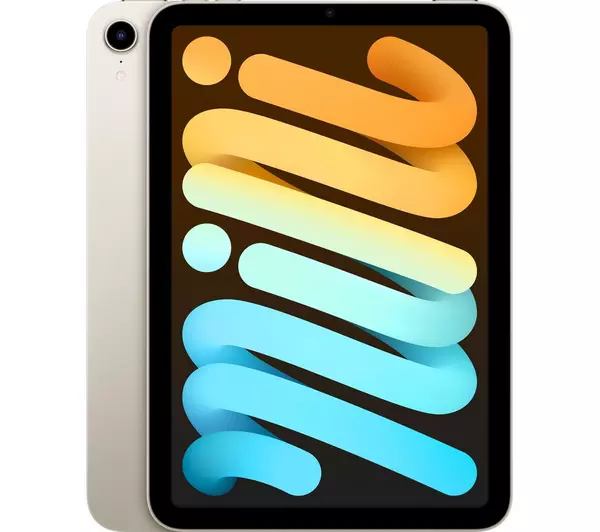 Apple iPad mini, 8.3″, A15 Bionic Processor, iPadOS, Wi-Fi, 64GB, Starlight
Description
Apple iPad mini, 8.3″, A15 Bionic Processor, iPadOS, Wi-Fi, 64GB, Starlight
The 2021 Apple iPad mini features the high-performing A15 Bionic chip, elegant all-screen design, an Ultra Wide front camera, and is compatible with the 2nd generation Apple Pencil (sold separately). It weighs only slightly under 300g, so is perfectly portable, packing the extraordinary power of iPad into the palm of the hand.
A15 Bionic Chip
The A15 Bionic Chip makes the iPad mini powerful and portable. From checking emails, to editing photos, using advanced apps and realising your creative projects, it has the power and speed to make whatever you do a seamless experience. It delivers up to 40% faster CPU performance and, with Apple's Neural Engine, up to 2x faster machine learning than the previous model.
Edge-to-edge screen, Liquid Retina display
The enclosure features an edge-to-edge screen with narrow borders and elegant rounded corners, while the Liquid Retina display features True Tone, P3 wide colour and ultra-low reflectivity, consistently making text sharp and colours vivid.
Ultra Wide camera with Centre Stage
The iPad mini's 12MP ultra wide front camera features Centre Stage. It automatically pans to keep you in frame as you move around, and when others join or leave the call, the view expands or zooms in automatically. Meanwhile, the rear Wide camera is 12MP too, and the A15 chip supports Smart HDR 3 for higher quality images.
Secure Touch ID
Touch ID is integrated into the top button for fast, easy and secure authentication. So you can use your fingerprint to unlock your iPad or quickly and securely make a payment. Your fingerprint information stays on your iPad – it's not shared with anyone, even Apple, helping to ensure that your personal information remains private.
Supports Apple pencil
iPad mini is compatible with the second-generation Apple Pencil (sold separately). It attaches magnetically and charges wirelessly, so it's always with you when you need it.
All day battery life
The iPad mini will keep you going for up to 10 hours of surfing the web on Wi-Fi or watching video off a single charge.
Wireless communication
Built-in Wi-Fi makes it easy to connect this tablet to the internet, whether that's through your own home network, Wi-Fi at work or a public connection. Bluetooth will let you send files and folders wirelessly between Bluetooth devices, and stream music to compatible speakers or headphones.
| Winner Name | Ticket Number | Draw Date |
| --- | --- | --- |
| Elliot White | 236 | 16/05/2022 |
1-100
101-200
201-300
301-400
401-500
501-600
601-700
701-800
| Ticket Number | Date | Name |
| --- | --- | --- |
| 1 | 2022-05-16 18:16:35 | Hannah Allpress |
| 2 | 2022-05-16 16:25:17 | Julie Bickerstaffe |
| 3 | 2022-05-16 18:41:07 | Joanne Stewart |
| 4 | 2022-05-16 13:18:17 | Sian Bolton |
| 5 | 2022-05-14 19:18:18 | Philippa Blair |
| 6 | 2022-05-16 10:18:56 | Susie Knights |
| 7 | 2022-05-14 11:41:19 | Lindsay Singh |
| 8 | 2022-05-15 12:26:04 | Kevin Hayes |
| 9 | 2022-05-14 21:25:13 | Shanay Kendall |
| 10 | 2022-05-16 09:23:08 | Keith Cheese |
| 11 | 2022-05-16 17:12:34 | Gillian Farrell |
| 12 | 2022-05-14 21:25:13 | Shanay Kendall |
| 13 | 2022-05-11 19:10:19 | Daniel Smith |
| 14 | 2022-05-15 17:26:59 | Sharon Hobday |
| 15 | 2022-05-16 15:26:57 | Keira Bradford-jones |
| 16 | 2022-05-16 10:55:17 | Kayleigh Williams |
| 17 | 2022-05-16 19:30:54 | Naomi Turner |
| 18 | 2022-05-15 22:15:42 | michaela avery |
| 19 | 2022-05-16 19:09:56 | SHAN FAYER |
| 20 | 2022-05-16 19:30:54 | Naomi Turner |
| 21 | 2022-05-14 14:08:15 | Chris Spencer |
| 22 | 2022-05-16 18:29:28 | Melissa Ashley |
| 23 | 2022-05-15 17:26:59 | Sharon Hobday |
| 24 | 2022-05-11 15:32:44 | Emma Louise |
| 25 | 2022-05-14 07:31:03 | Josh Richardson |
| 26 | 2022-05-16 19:28:43 | Gary King |
| 27 | 2022-05-11 14:53:32 | Leah C |
| 28 | 2022-05-16 15:13:06 | S s |
| 29 | 2022-05-16 18:16:35 | Hannah Allpress |
| 30 | 2022-05-16 09:12:21 | Emma Louise |
| 31 | 2022-05-14 14:42:36 | Ian Lipscombe |
| 32 | 2022-05-16 15:17:48 | Sharon Longbottom |
| 33 | 2022-05-16 19:09:56 | SHAN FAYER |
| 34 | 2022-05-16 17:22:26 | Sarah Dennis |
| 35 | 2022-05-16 15:19:18 | Rachel Scott |
| 36 | 2022-05-16 17:44:56 | Daniel Illman |
| 37 | 2022-05-16 12:02:09 | Lisa Tanner |
| 38 | 2022-05-16 20:03:56 | Stephen Badcock |
| 42 | 2022-05-16 11:48:52 | Amy Rowland |
| 43 | 2022-05-16 20:09:55 | Joanna Jacobs |
| 44 | 2022-05-13 21:10:25 | Linda Lugg |
| 45 | 2022-05-16 15:13:06 | S s |
| 46 | 2022-05-13 20:00:58 | carol smaller |
| 47 | 2022-05-16 17:31:16 | Julie Cleave |
| 48 | 2022-05-16 20:09:31 | Bryony Dorrans |
| 52 | 2022-05-16 05:05:13 | Amanda Gerry-O'Connor |
| 54 | 2022-05-16 17:29:00 | Natasha Parnell |
| 55 | 2022-05-16 19:30:54 | Naomi Turner |
| 56 | 2022-05-16 08:08:20 | phyllis steer |
| 57 | 2022-05-16 17:56:15 | Viv Munslow |
| 58 | 2022-05-14 16:03:05 | Samantha J |
| 59 | 2022-05-16 18:15:16 | Sarah Moran9 |
| 61 | 2022-05-16 17:44:59 | Lorraine Mchugh |
| 62 | 2022-05-11 21:28:10 | Laura Carr |
| 64 | 2022-05-16 18:16:35 | Hannah Allpress |
| 66 | 2022-05-16 20:42:04 | Chloe Kershaw |
| 67 | 2022-05-15 20:14:01 | Harley Coles |
| 68 | 2022-05-16 15:49:01 | Dave Cavanagh |
| 69 | 2022-05-16 15:17:48 | Sharon Longbottom |
| 70 | 2022-05-16 20:41:07 | Charlie Sheen |
| 71 | 2022-05-16 19:23:40 | Jemma Harrison |
| 73 | 2022-05-11 22:05:58 | Leia Tiar |
| 74 | 2022-05-16 20:26:24 | Sam Thompson |
| 77 | 2022-05-16 14:26:28 | emily Field |
| 78 | 2022-05-16 16:28:18 | Jodie Ellis |
| 79 | 2022-05-16 20:16:30 | Philippa Blair |
| 81 | 2022-05-15 21:43:01 | Dan Byrne |
| 82 | 2022-05-14 08:10:41 | Hannah Stalley |
| 83 | 2022-05-16 15:20:41 | Ann Fowler |
| 84 | 2022-05-16 17:32:51 | Natasha Parnell |
| 85 | 2022-05-16 16:27:06 | Lekel North |
| 86 | 2022-05-15 20:04:25 | Kate Nicholas |
| 87 | 2022-05-16 15:49:01 | Dave Cavanagh |
| 88 | 2022-05-16 20:11:33 | Lee Rae |
| 89 | 2022-05-16 16:27:06 | Lekel North |
| 90 | 2022-05-16 12:17:34 | Rachael Dummett |
| 92 | 2022-05-16 20:16:30 | Philippa Blair |
| 93 | 2022-05-16 19:54:37 | William Kerslake |
| 94 | 2022-05-16 17:47:46 | Lauren Charlesworth |
| 95 | 2022-05-16 18:14:35 | Lisa Morris |
| 96 | 2022-05-16 15:49:01 | Dave Cavanagh |
| 97 | 2022-05-16 19:30:54 | Naomi Turner |
| 98 | 2022-05-16 14:52:39 | Claudiu Savescu |
| 99 | 2022-05-16 17:50:07 | Amanda James |
| 100 | 2022-05-16 19:30:54 | Naomi Turner |