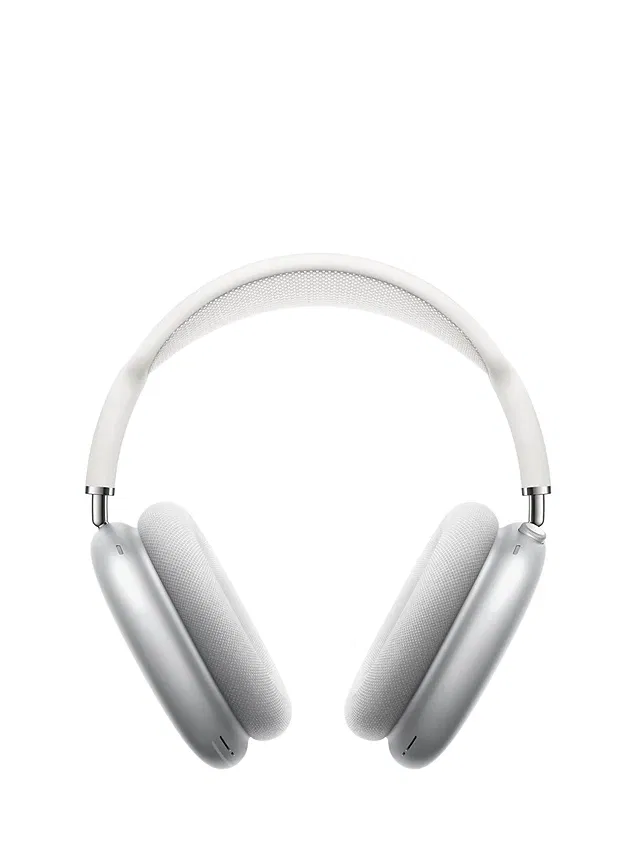 Apple AirPods Max, Noise Cancelling Wireless Bluetooth Over-Ear Headphones, Silver
Description
Apple AirPods Max, Noise Cancelling Wireless Bluetooth Over-Ear Headphones, Silver
Providing 20 hours of listening, movie watching, or talk time – as well as featuring high-fidelity audio, along with industry-leading Active Noise Cancellation, Apple's AirPods Max deliver a rich audio experience, no matter if you're on the move or at home.
Comfortable listening
AirPods Max's telescoping arms smoothly extend and then stay where you set them – providing a consistent fit and seal, whilst the custom-designed mesh textile wraps the ear cushions, to give pillow-like softness while listening.
H1 chip
Apple's H1 chip ensures your AirPods Max will have better connectivity, increase battery life and speedier pairing times. Additionally, by utilising each of the processor's 10 audio cores, computational audio helps block outside noise, and then adapts the audio to the fit and seal of your ear cushions.
Easy operation
The AirPods Max's helpful Digital Crown lets you precisely control volume, skip between tracks, answer phone calls, and even activate Siri. Or just tap the noise control button to switch to Transparency mode – this enables you to let outside sound in, so you can interact with your surroundings.
Don't worry about setting the headphone up, as AirPods Max will connect immediately to your iPhone or iPad. To pair, just place AirPods Max near your selected device and then tap Connect on your screen to get going.
Helpful features
For those times when you need to remove the headphone mid-song, AirPods Max will pause your audio when you take them off, and resume playback when you put them back on.
Active Noise Cancellation
AirPods Max use a total of six outward-facing microphones to detect noise in your environment, and two inward-facing microphones to measure what you're hearing, and to help cancel unwanted external sounds. Beamforming microphones also help to isolate your voice on phone calls, so you're heard clearly during noisy commutes.
Battery life
When popped inside the included wireless Smart Case, AirPods Max enter an ultra?low?power state that handily preserves charge.
| Winner Name | Ticket Number | Draw Date |
| --- | --- | --- |
| sasha gill | 679 | 29/11/2023 |
| Ticket Number | Date | Name |
| --- | --- | --- |
| 1 | 2023-11-29 13:54:37 | Kathryn Hills |
| 2 | 2023-11-29 17:05:09 | Wendy Francis |
| 3 | 2023-11-24 22:07:20 | Carly Kelly |
| 4 | 2023-11-29 17:34:15 | Laura Smith |
| 5 | 2023-11-29 11:28:02 | K. L |
| 6 | 2023-11-29 18:57:25 | Shelley Clewes |
| 7 | 2023-11-28 10:15:45 | Bobbi Glover |
| 8 | 2023-11-29 11:28:02 | K. L |
| 9 | 2023-11-26 12:18:44 | pamela goodyear |
| 10 | 2023-11-29 19:47:51 | Roxy P |
| 11 | 2023-11-29 12:05:12 | Lee Gable |
| 12 | 2023-11-28 10:44:43 | Joe Keirle |
| 13 | 2023-11-29 15:08:42 | D T |
| 14 | 2023-11-29 20:49:30 | Tara Stirzaker |
| 15 | 2023-11-29 20:43:21 | Jill Higham |
| 16 | 2023-11-28 20:19:01 | .K. B. |
| 17 | 2023-11-29 12:05:12 | Lee Gable |
| 18 | 2023-11-29 19:25:51 | Philip Colbourne |
| 19 | 2023-11-29 15:38:29 | Bobbi Glover |
| 21 | 2023-11-28 22:30:47 | LJ Storer no |
| 22 | 2023-11-28 22:30:47 | LJ Storer no |
| 23 | 2023-11-27 21:00:38 | Megan Mcgovern |
| 25 | 2023-11-29 18:18:48 | Joanna Wilson |
| 26 | 2023-11-29 19:26:30 | Claire Sharland |
| 27 | 2023-11-28 12:14:09 | Rosie Pennicott |
| 28 | 2023-11-28 14:31:05 | Alysia Cunliffe |
| 29 | 2023-11-29 16:49:50 | Nicola Brown |
| 30 | 2023-11-29 17:42:52 | Helen Holloway |
| 31 | 2023-11-29 12:05:12 | Lee Gable |
| 32 | 2023-11-29 20:23:40 | L F |
| 33 | 2023-11-29 18:18:48 | Joanna Wilson |
| 34 | 2023-11-29 07:52:05 | Jo Pennington |
| 37 | 2023-11-24 22:00:29 | Charlotte Furnell |
| 39 | 2023-11-29 20:55:59 | Shazzy Mazzy |
| 41 | 2023-11-28 21:54:20 | E Sully |
| 42 | 2023-11-29 11:28:02 | K. L |
| 43 | 2023-11-29 20:05:58 | Dawn SOLECKI |
| 44 | 2023-11-28 20:44:46 | Becky H |
| 45 | 2023-11-29 20:19:43 | Victoria Atkinson |
| 46 | 2023-11-29 12:37:33 | Cameron Thompson |
| 47 | 2023-11-29 20:04:24 | Sue Manders |
| 48 | 2023-11-29 15:46:45 | Rachi B |
| 49 | 2023-11-29 15:46:45 | Rachi B |
| 50 | 2023-11-28 14:34:20 | Giorgia Routledge |
| 51 | 2023-11-29 19:40:26 | Courteney Stone |
| 52 | 2023-11-29 20:09:22 | Megan Tilling |
| 54 | 2023-11-29 18:57:57 | Abigail Clark |
| 55 | 2023-11-29 16:30:55 | Peter Cockbain |
| 56 | 2023-11-29 13:36:54 | Rebecca Brewer |
| 57 | 2023-11-28 10:44:43 | Joe Keirle |
| 58 | 2023-11-29 19:48:45 | Mark Astin |
| 59 | 2023-11-29 11:28:02 | K. L |
| 61 | 2023-11-25 17:26:56 | timothy Mitchell |
| 64 | 2023-11-29 10:16:05 | Jacob Glover |
| 65 | 2023-11-29 20:55:59 | Shazzy Mazzy |
| 67 | 2023-11-28 22:25:51 | Krissi Hodgetts |
| 69 | 2023-11-29 15:34:42 | Sarah Pridmore |
| 70 | 2023-11-29 18:40:10 | Justin Lashley |
| 72 | 2023-11-28 16:05:25 | Christina Honey |
| 74 | 2023-11-29 20:50:21 | Rachel Bastin |
| 75 | 2023-11-29 16:19:38 | William Harvey |
| 76 | 2023-11-29 11:28:02 | K. L |
| 77 | 2023-11-29 20:27:55 | Kirsty Hodges |
| 78 | 2023-11-29 11:53:09 | Finch Brown |
| 79 | 2023-11-29 20:32:14 | Annmarie Dole |
| 83 | 2023-11-29 20:34:43 | rob denslow |
| 85 | 2023-11-29 19:12:36 | Mark Saunders |
| 88 | 2023-11-29 11:28:02 | K. L |
| 91 | 2023-11-29 20:49:59 | Ellie Brooks |
| 92 | 2023-11-29 17:24:25 | Christine Swift |
| 93 | 2023-11-29 11:19:54 | Brad Wootton |
| 95 | 2023-11-29 11:28:02 | K. L |
| 97 | 2023-11-29 15:46:45 | Rachi B |
| 98 | 2023-11-29 11:28:02 | K. L |
| 101 | 2023-11-29 18:59:19 | Emma Weston |
| 102 | 2023-11-29 20:05:34 | Sarah Matthews |
| 104 | 2023-11-29 15:46:45 | Rachi B |
| 106 | 2023-11-29 20:09:43 | JOSEPH PARTINGTON |
| 107 | 2023-11-29 19:12:36 | Mark Saunders |
| 108 | 2023-11-29 18:59:19 | Emma Weston |
| 109 | 2023-11-29 20:21:37 | Natasha Pitman |
| 110 | 2023-11-29 20:23:40 | L F |
| 111 | 2023-11-29 15:46:45 | Rachi B |
| 112 | 2023-11-29 15:46:45 | Rachi B |
| 113 | 2023-11-28 23:57:46 | Emma & lee |
| 114 | 2023-11-29 19:09:39 | K M |
| 115 | 2023-11-29 20:08:55 | Laura Price |
| 116 | 2023-11-29 07:09:02 | Michelle Harvey |
| 117 | 2023-11-29 11:28:02 | K. L |
| 118 | 2023-11-29 20:05:58 | S D |
| 119 | 2023-11-29 20:49:59 | Ellie Brooks |
| 120 | 2023-11-29 20:05:34 | Sarah Matthews |
| 121 | 2023-11-29 20:33:39 | Ollie Williams |
| 123 | 2023-11-29 13:54:37 | Kathryn Hills |
| 125 | 2023-11-29 19:28:29 | Ste Cummins |
| 127 | 2023-11-29 20:33:31 | Ross Newham |
| 128 | 2023-11-29 15:46:45 | Rachi B |
| 129 | 2023-11-29 11:28:02 | K. L |
| 130 | 2023-11-28 22:16:45 | Lucy Evans |
| 131 | 2023-11-29 20:55:59 | Shazzy Mazzy |
| 133 | 2023-11-29 19:25:34 | Louise Riley |
| 134 | 2023-11-29 07:52:05 | Jo Pennington |
| 135 | 2023-11-29 16:30:55 | Peter Cockbain |
| 137 | 2023-11-29 15:46:45 | Rachi B |
| 138 | 2023-11-28 10:44:43 | Joe Keirle |
| 139 | 2023-11-29 19:49:00 | Kerri-Ann Clarkson |
| 140 | 2023-11-29 15:46:45 | Rachi B |
| 142 | 2023-11-29 20:43:21 | Jill Higham |
| 143 | 2023-11-29 07:09:02 | Michelle Harvey |
| 144 | 2023-11-29 11:28:02 | K. L |
| 148 | 2023-11-29 19:09:39 | K M |
| 151 | 2023-11-29 18:51:56 | Dan Kennard |
| 153 | 2023-11-29 15:46:45 | Rachi B |
| 154 | 2023-11-28 10:44:43 | Joe Keirle |
| 155 | 2023-11-28 20:44:46 | Becky H |
| 158 | 2023-11-29 11:28:02 | K. L |
| 159 | 2023-11-29 17:14:20 | Lucy Grant |
| 160 | 2023-11-29 13:54:37 | Kathryn Hills |
| 161 | 2023-11-29 13:54:37 | Kathryn Hills |
| 162 | 2023-11-28 22:15:26 | J S |
| 163 | 2023-11-29 20:03:42 | Owen Sterry |
| 167 | 2023-11-29 20:47:41 | Sam Rahman |
| 171 | 2023-11-29 20:49:59 | Ellie Brooks |
| 174 | 2023-11-29 20:24:57 | Amara Baxter |
| 175 | 2023-11-29 11:28:02 | K. L |
| 180 | 2023-11-29 20:08:55 | Laura Price |
| 183 | 2023-11-28 10:44:43 | Joe Keirle |
| 184 | 2023-11-28 17:32:44 | Jacqui Hewings |
| 185 | 2023-11-29 17:14:20 | Lucy Grant |
| 186 | 2023-11-29 11:28:02 | K. L |
| 188 | 2023-11-29 19:12:31 | Maria cristina Iamandi |
| 189 | 2023-11-29 19:33:49 | Gemma Benning |
| 191 | 2023-11-29 19:12:50 | Natalie Oldham |
| 192 | 2023-11-29 20:53:45 | Amy Woodman |
| 195 | 2023-11-29 20:49:59 | Ellie Brooks |
| 196 | 2023-11-29 11:28:02 | K. L |
| 197 | 2023-11-29 10:53:18 | Kim Ayres |
| 198 | 2023-11-29 19:48:38 | Mike M |
| 200 | 2023-11-29 14:01:17 | Leah Chalmers |
| 205 | 2023-11-29 20:35:46 | Ryan Williams |
| 207 | 2023-11-29 19:28:50 | Shona Hunt |
| 211 | 2023-11-29 15:46:45 | Rachi B |
| 215 | 2023-11-29 20:10:52 | Sadie Morgan |
| 216 | 2023-11-29 19:52:30 | Charlie Brett |
| 217 | 2023-11-29 20:05:58 | S D |
| 218 | 2023-11-29 20:55:20 | Hannah Haines |
| 222 | 2023-11-29 11:28:02 | K. L |
| 223 | 2023-11-29 18:09:51 | Mike Penny |
| 224 | 2023-11-29 10:53:18 | Kim Ayres |
| 225 | 2023-11-27 21:34:31 | Ben Knapton |
| 227 | 2023-11-29 11:28:02 | K. L |
| 228 | 2023-11-29 15:46:45 | Rachi B |
| 229 | 2023-11-29 06:36:40 | Tracey Milne |
| 230 | 2023-11-29 20:55:47 | Katie Jaffa |
| 231 | 2023-11-29 15:46:45 | Rachi B |
| 232 | 2023-11-29 20:10:10 | Kelly Radmore |
| 234 | 2023-11-29 19:50:53 | Kelly Hallett |
| 235 | 2023-11-29 20:43:56 | Vanessa Gale |
| 236 | 2023-11-29 11:28:02 | K. L |
| 237 | 2023-11-29 19:52:30 | Charlie Brett |
| 239 | 2023-11-29 15:46:45 | Rachi B |
| 241 | 2023-11-28 21:58:17 | Karl Glover |
| 242 | 2023-11-29 15:46:45 | Rachi B |
| 244 | 2023-11-29 16:59:46 | Julia Holding |
| 245 | 2023-11-28 23:08:09 | Courtney Ross |
| 247 | 2023-11-29 20:21:12 | Finley Dunning |
| 251 | 2023-11-29 11:28:02 | K. L |
| 252 | 2023-11-29 16:19:38 | William Harvey |
| 253 | 2023-11-29 18:25:35 | Siobhan Clifford |
| 255 | 2023-11-28 20:04:38 | Ian Garner |
| 258 | 2023-11-29 14:39:30 | Cheryl White |
| 260 | 2023-11-29 19:50:57 | Joanna Roper |
| 262 | 2023-11-29 15:46:45 | Rachi B |
| 263 | 2023-11-29 11:28:02 | K. L |
| 265 | 2023-11-29 19:27:37 | Jo Kestell |
| 266 | 2023-11-29 19:12:36 | Mark Saunders |
| 267 | 2023-11-29 16:30:55 | Peter Cockbain |
| 271 | 2023-11-29 20:56:29 | Helen bradford |
| 272 | 2023-11-28 21:23:00 | Zara Thurgood |
| 273 | 2023-11-29 14:47:25 | Caitlin Johnston |
| 275 | 2023-11-29 17:05:09 | Wendy Francis |
| 278 | 2023-11-29 11:28:02 | K. L |
| 281 | 2023-11-27 21:00:38 | Megan Mcgovern |
| 282 | 2023-11-28 23:08:09 | Courtney Ross |
| 283 | 2023-11-28 23:18:08 | Kim White |
| 284 | 2023-11-29 09:14:58 | Vikki Laws |
| 285 | 2023-11-29 18:40:10 | Justin Lashley |
| 286 | 2023-11-29 19:09:39 | K M |
| 288 | 2023-11-29 11:28:02 | K. L |
| 289 | 2023-11-28 23:08:09 | Courtney Ross |
| 291 | 2023-11-29 17:15:55 | Becky H |
| 292 | 2023-11-29 19:17:27 | Lucy Ayres |
| 296 | 2023-11-29 19:12:36 | Mark Saunders |
| 297 | 2023-11-29 13:54:37 | Kathryn Hills |
| 299 | 2023-11-29 19:26:30 | Claire Sharland |
| 300 | 2023-11-27 21:00:38 | Megan Mcgovern |