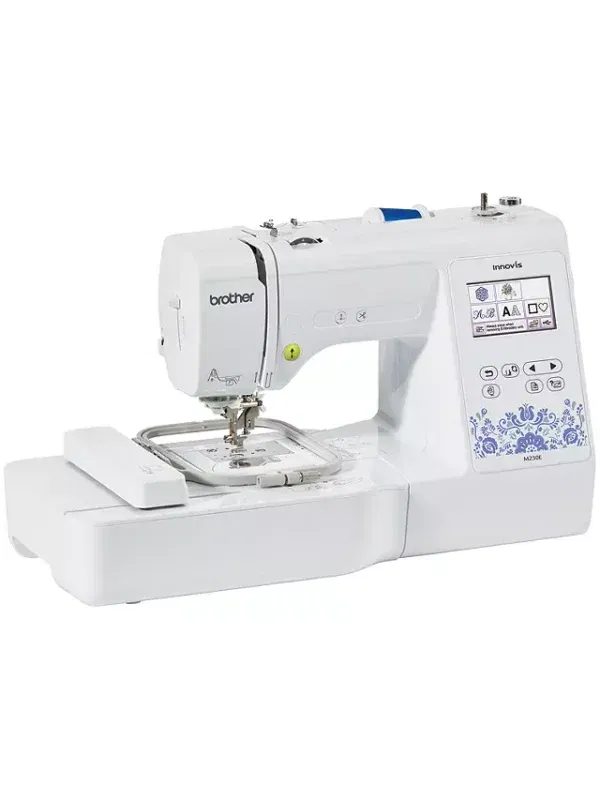 £800 Cash alternative or Brother Innov-Is M230e Embroidery Machine, White or £800 Cash alternative
Description
Brother Innov-Is M230e Embroidery Machine, White or £800 Cash alternative
Suitable for complete beginners, the Innov-Is M230e embroidery only machine is simple to use yet packed full of features.
Stitches:
Discover the creative world of embroidery with this Brother machine. With over 125 built-in embroidery patterns, designs and fonts, it has never been easier to embellish your sewing projects. The Innov-Is M230e also feautres a USB port to upload your own designs for a customisable experience.
Unique features:
This compact machine features a colour LCD touch screen to enable ease of editing and selecting your designs, a USB port for USB flash drive and a 10 x 10cm embroidery area.
Accessories included:
This machine is supplied with a needle set, bobbins, bobbin clip, seam ripper, scissors, cleaning brush, screwdriver, spool caps, embroidery frame, accessories bag and embroidery design guide.
| Winner Name | Ticket Number | Draw Date |
| --- | --- | --- |
| Kim Ayres | 538 | 13/05/2022 |
1-100
101-200
201-300
301-400
401-500
501-600
601-700
701-800
801-900
| Ticket Number | Date | Name |
| --- | --- | --- |
| 1 | 2022-05-13 19:36:11 | Chloe-Ann Watson |
| 2 | 2022-05-10 08:03:33 | Alison Cass |
| 3 | 2022-05-13 19:42:52 | Samantha Cole |
| 4 | 2022-05-10 15:09:17 | Fleur Egington |
| 5 | 2022-05-13 14:26:14 | Alison Cass |
| 6 | 2022-05-13 11:41:29 | Claire Allen |
| 7 | 2022-05-13 18:40:15 | Kelly Barrett |
| 8 | 2022-05-11 18:49:06 | Heather Baker |
| 9 | 2022-05-13 18:22:50 | Richard Whatman |
| 10 | 2022-05-13 20:02:16 | Jodie Southwell |
| 11 | 2022-05-10 08:03:33 | Alison Cass |
| 12 | 2022-05-13 20:28:09 | Agnes Newman |
| 13 | 2022-05-13 09:41:59 | Georgia Samuel |
| 14 | 2022-05-13 12:54:24 | Izzy Eveson |
| 15 | 2022-05-13 19:54:06 | Philippa Blair |
| 16 | 2022-05-13 19:54:06 | Philippa Blair |
| 17 | 2022-05-13 11:13:13 | D T |
| 18 | 2022-05-13 20:30:07 | Brenda Mossop |
| 19 | 2022-05-13 19:10:15 | Amanda Wright |
| 20 | 2022-05-06 16:34:16 | Susan Wills |
| 21 | 2022-05-05 20:28:55 | Lisa Roberts |
| 22 | 2022-05-13 09:38:53 | Emma & lee |
| 23 | 2022-05-13 20:04:55 | Rachel Scott |
| 24 | 2022-05-06 16:34:16 | Susan Wills |
| 25 | 2022-05-13 20:37:49 | Nicola Walker |
| 26 | 2022-05-06 16:34:16 | Susan Wills |
| 27 | 2022-05-12 19:48:33 | L M |
| 28 | 2022-05-11 16:28:39 | Sarah Barton |
| 29 | 2022-05-13 20:07:39 | Sharon Avery |
| 30 | 2022-05-13 17:53:00 | Sarah Thompson-Lowe |
| 31 | 2022-05-13 20:28:20 | N C |
| 32 | 2022-05-13 18:55:14 | Julia Webber |
| 33 | 2022-05-10 01:09:54 | Marc Baker |
| 34 | 2022-05-13 20:30:35 | Kelly Reed |
| 35 | 2022-05-13 19:29:54 | Caroline Cattermole |
| 36 | 2022-05-13 20:27:23 | Daniel Cobain |
| 40 | 2022-05-13 19:11:26 | Nicola Walker |
| 41 | 2022-05-12 21:33:17 | Usher Prowse |
| 42 | 2022-05-13 20:02:16 | Jodie Southwell |
| 43 | 2022-05-13 17:53:00 | Sarah Thompson-Lowe |
| 44 | 2022-05-13 18:40:47 | Daniel Kingscote |
| 45 | 2022-05-10 08:03:33 | Alison Cass |
| 46 | 2022-05-13 14:26:14 | Alison Cass |
| 47 | 2022-05-13 18:43:11 | Rhiannon Pope |
| 48 | 2022-05-13 17:48:18 | Hall Lauren |
| 49 | 2022-05-10 08:03:33 | Alison Cass |
| 50 | 2022-05-13 20:19:32 | Fiona turnbull |
| 52 | 2022-05-06 16:34:16 | Susan Wills |
| 53 | 2022-05-13 11:39:03 | |
| 54 | 2022-05-13 18:51:46 | Daniel Lee |
| 55 | 2022-05-13 19:11:26 | Nicola Walker |
| 57 | 2022-05-13 20:36:33 | Carmen Middleditch |
| 60 | 2022-05-13 19:35:05 | Georgia Samuel |
| 66 | 2022-05-13 19:35:05 | Georgia Samuel |
| 68 | 2022-05-13 16:04:22 | Mandy Smith |
| 69 | 2022-05-13 19:35:05 | Georgia Samuel |
| 70 | 2022-05-13 19:02:42 | Keith Moore |
| 73 | 2022-05-13 20:23:41 | Tanya Sumner |
| 74 | 2022-05-13 20:07:39 | Sharon Avery |
| 75 | 2022-05-13 14:26:14 | Alison Cass |
| 76 | 2022-05-10 08:03:33 | Alison Cass |
| 77 | 2022-05-13 19:18:28 | Portia Fowler |
| 78 | 2022-05-13 18:52:34 | Amber Rice |
| 80 | 2022-05-13 20:04:55 | Rachel Scott |
| 82 | 2022-05-13 20:10:06 | Melonie Jeffery |
| 83 | 2022-05-13 10:50:26 | Lee Blake-Burke |
| 86 | 2022-05-13 19:26:38 | Angel Fowler |
| 87 | 2022-05-13 20:27:23 | Daniel Cobain |
| 89 | 2022-05-10 12:41:29 | L M |
| 90 | 2022-05-10 12:41:29 | L M |
| 91 | 2022-05-13 20:05:12 | Khadine Coyle |
| 92 | 2022-05-09 07:46:56 | D T |
| 93 | 2022-05-09 07:46:56 | D T |
| 94 | 2022-05-13 13:22:09 | Stephanie Bush |
| 95 | 2022-05-13 19:29:19 | Deb Jones |
| 96 | 2022-05-12 22:00:52 | Annette M |
| 97 | 2022-05-13 19:29:19 | Deb Jones |
| 98 | 2022-05-13 19:29:19 | Deb Jones |
| 99 | 2022-05-13 19:36:11 | Chloe-Ann Watson |
| 100 | 2022-05-13 19:36:11 | Chloe-Ann Watson |