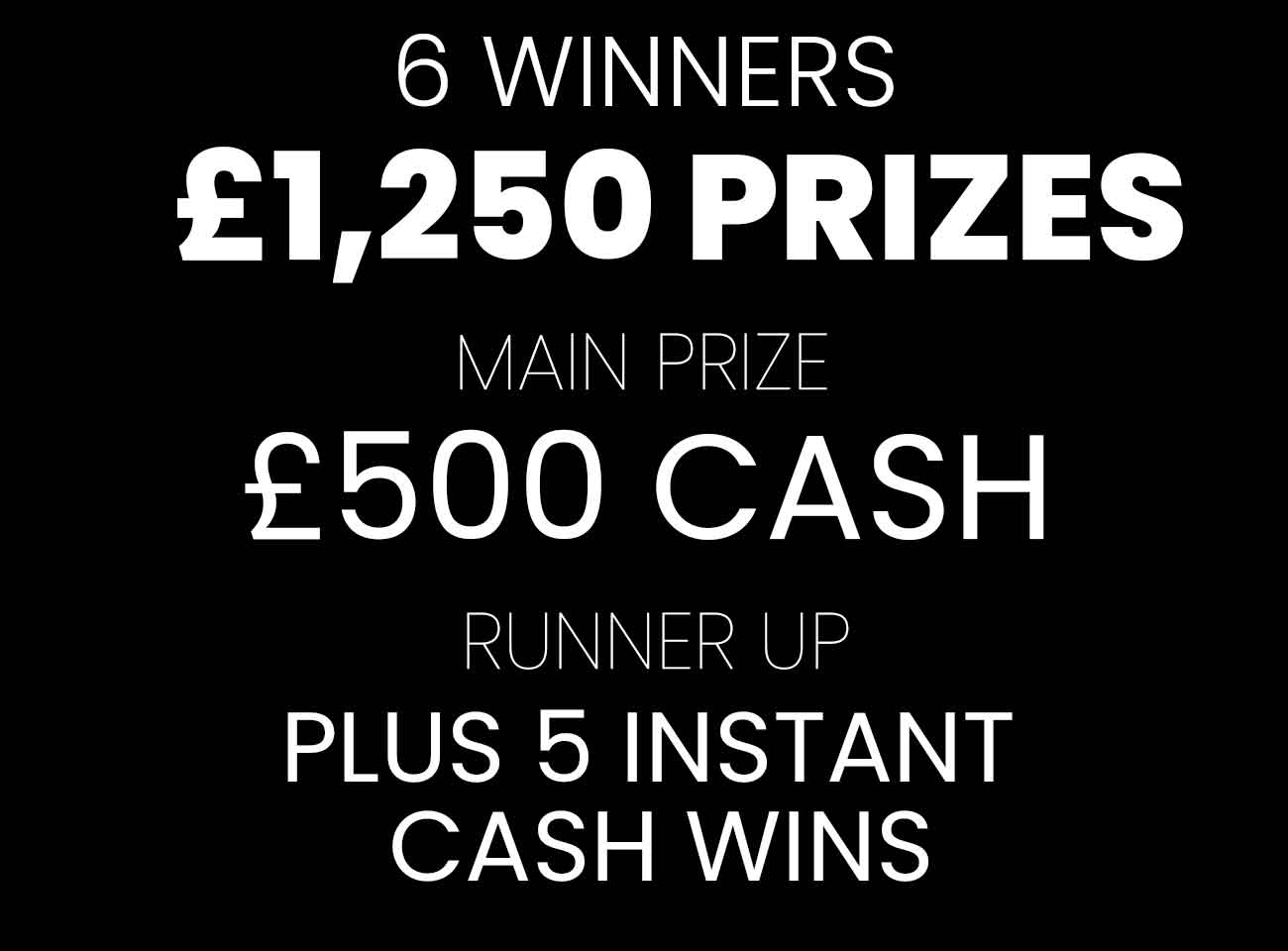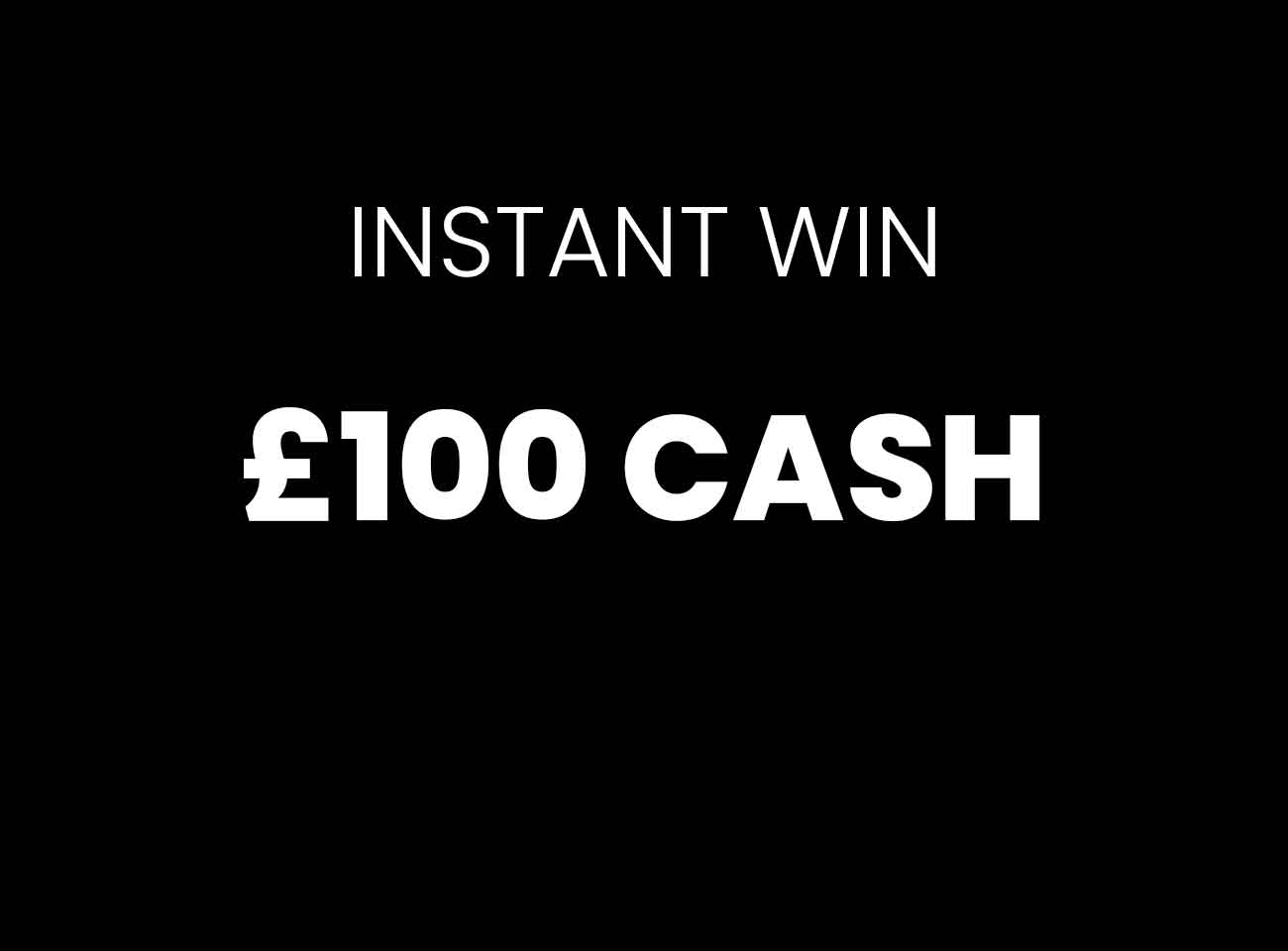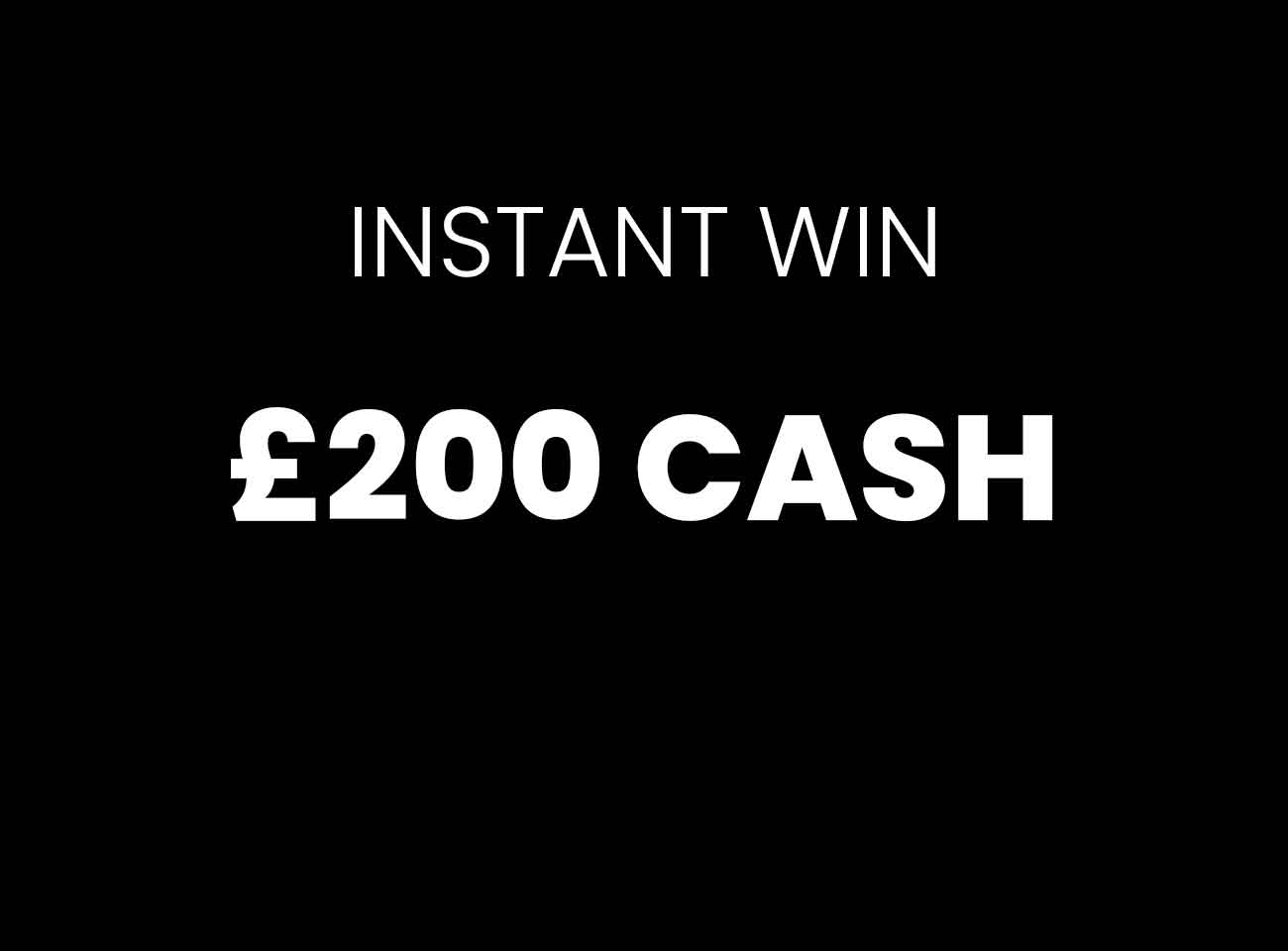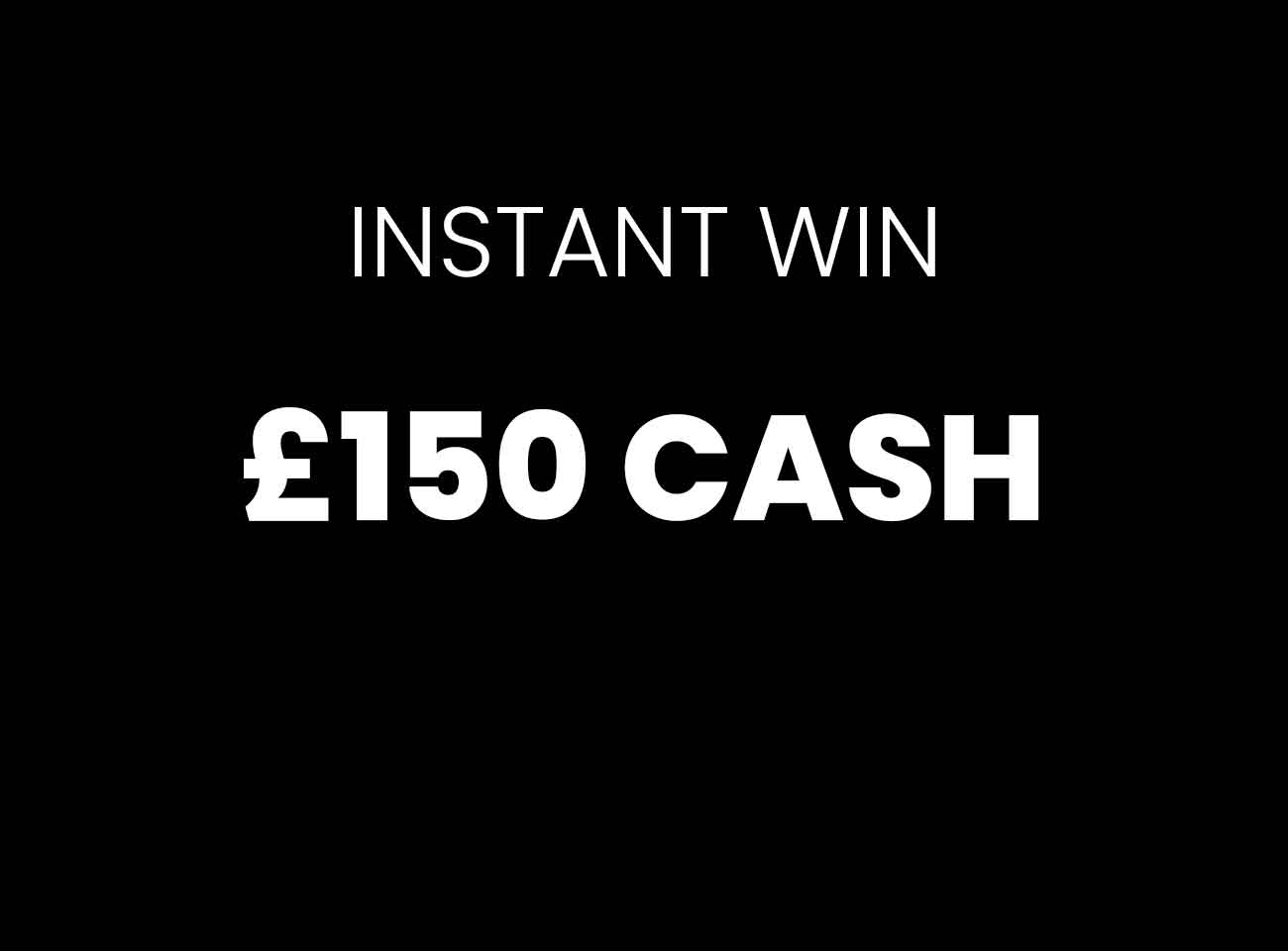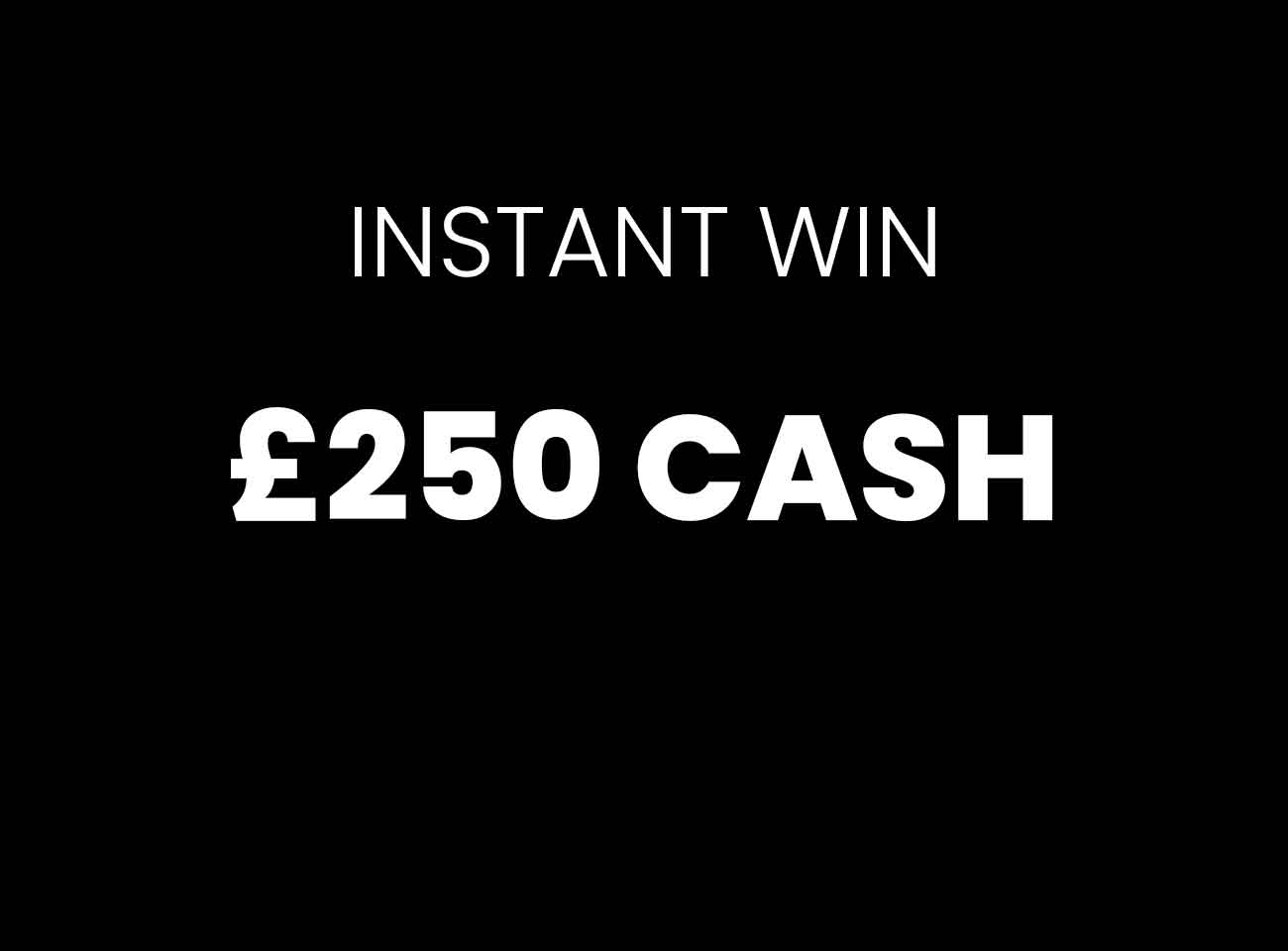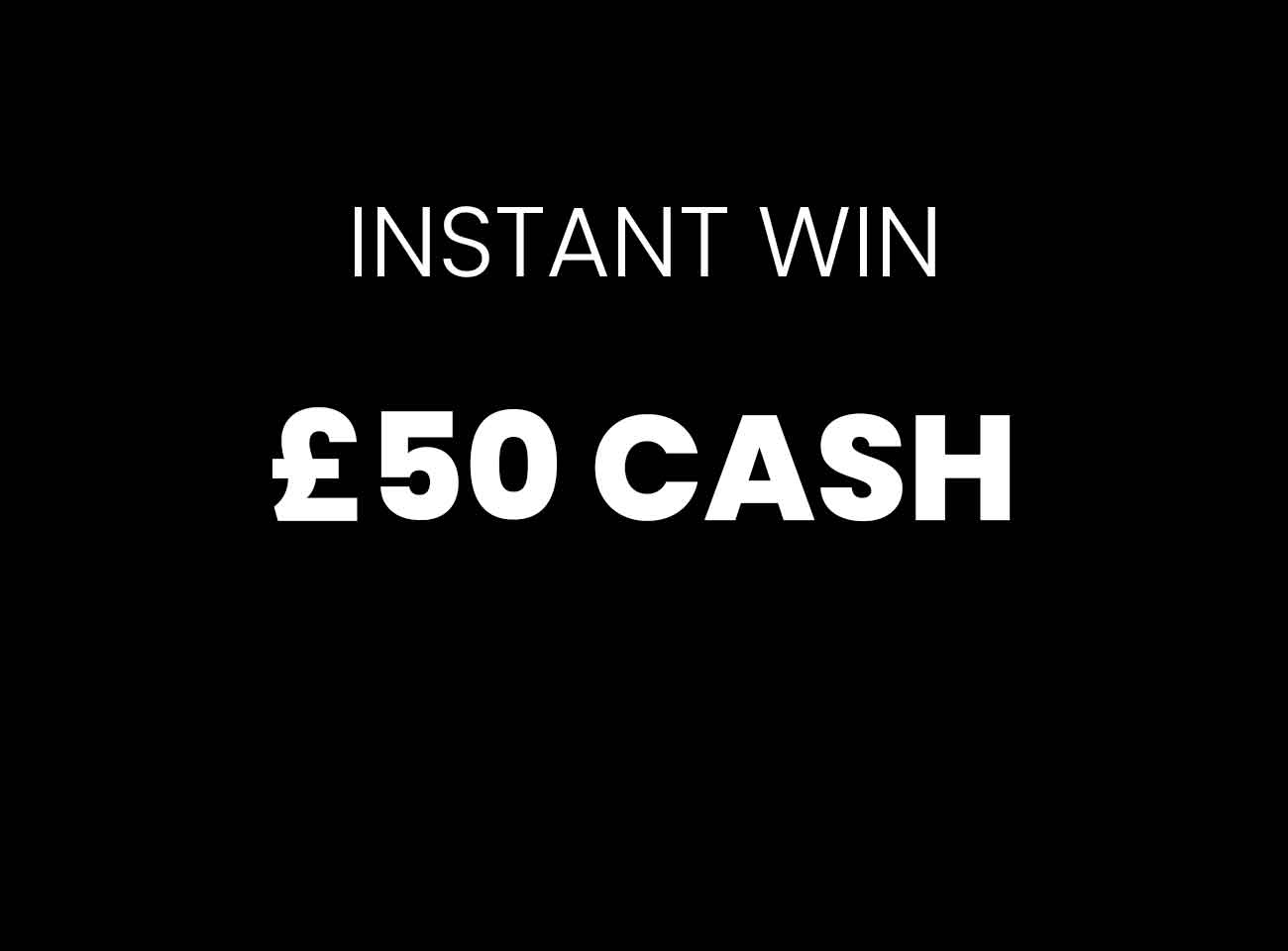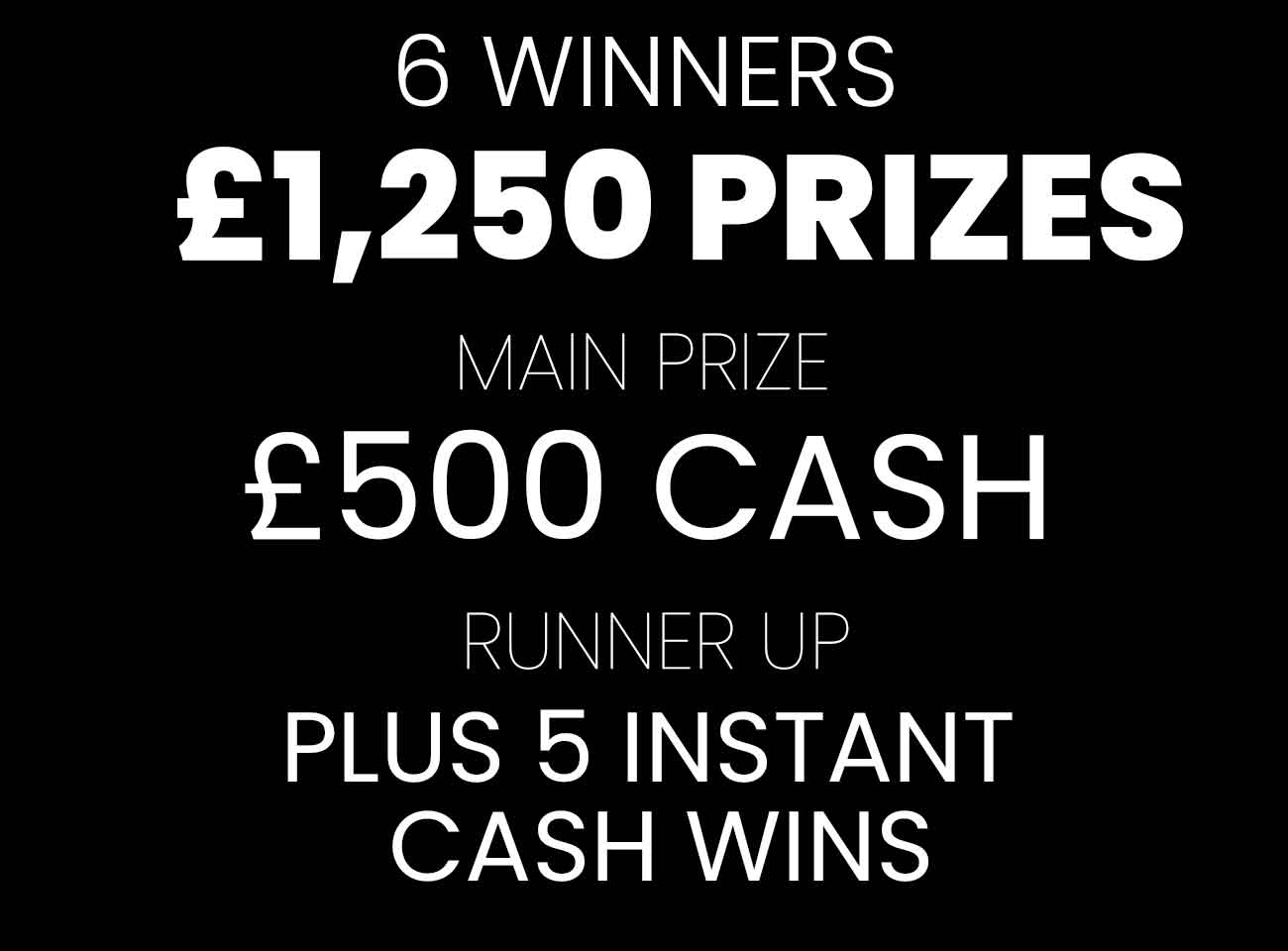 £500 JACKPOT MAIN PRIZE + 5 INSTANT WINNING NUMBERS
Description
AUTO WIN- £500 JACKPOT MAIN PRIZE + 5 INSTANT WINNING NUMBERS
£500 tax free cash ( everyone will be entered into this, regardless if you win any instant wins!
Simply enter the raffle and you will be randomly allocated your tickets. If your tickets match one of the numbers in the description below, you will win that prize instantly!
Ticket numbers are allocated randomly to every order.
If you are lucky, contact us on our Facebook Page or email to claim your winnings – We will mark prizes off as they're claimed!
When you enter an instant win competition you need to check the instant win list, which is allocated on the instant win competition.
If your ticket number (s) match then you win the prize next to it.
You can win more than once on this competition if you have multiple tickets
| | | |
| --- | --- | --- |
| TICKET | PRIZE | WINNER |
| 52 | £100 | E L |
| 211 | £50 | Debbie Harris |
| 345 | £200 | Bradley Lewis |
| 470 | £150 | Teresa Ladbrook |
| 501 | £250 | J L |
| Winner Name | Ticket Number | Draw Date |
| --- | --- | --- |
| Jayne Lofthouse | 555 | 22/09/2022 |
1-200
201-400
401-600
601-800
| Ticket Number | Date | Name |
| --- | --- | --- |
| 1 | 2022-09-21 22:19:25 | L G M |
| 2 | 2022-09-21 10:34:13 | Dana Mills |
| 3 | 2022-09-17 20:37:49 | Courtney Messenger |
| 4 | 2022-09-19 16:29:27 | Nicola Naylor |
| 5 | 2022-09-18 21:52:03 | Lee Rae |
| 6 | 2022-09-21 20:31:43 | Verity Bath |
| 7 | 2022-09-22 14:06:47 | Victoria Sealey |
| 8 | 2022-09-21 23:06:54 | Stephanie Bush |
| 9 | 2022-09-17 15:55:42 | Trudi Kim |
| 10 | 2022-09-22 12:53:10 | Cameron Thompson |
| 11 | 2022-09-21 16:47:29 | Linda Beer |
| 12 | 2022-09-17 14:42:02 | Karen Collins |
| 13 | 2022-09-22 14:13:01 | barbara warne |
| 14 | 2022-09-22 11:51:19 | Usher Prowse |
| 15 | 2022-09-21 17:20:22 | marion clark |
| 16 | 2022-09-17 14:46:09 | Natasha Duncan |
| 17 | 2022-09-21 08:55:23 | Sarah Dennis |
| 18 | 2022-09-17 16:43:59 | Bradley Lewis |
| 19 | 2022-09-18 18:25:09 | g Mv |
| 20 | 2022-09-22 10:02:41 | Tammy Bartlett |
| 21 | 2022-09-17 22:47:19 | Mark Lofthouse |
| 22 | 2022-09-18 11:12:22 | Danielle Lindsay |
| 23 | 2022-09-22 14:51:49 | Jack Stelfox |
| 24 | 2022-09-21 16:57:51 | Shannon Deathe |
| 25 | 2022-09-17 15:12:29 | Emma Northcott |
| 26 | 2022-09-17 14:49:11 | Natasha Duncan |
| 27 | 2022-09-18 18:06:56 | Kerry Roach |
| 28 | 2022-09-18 16:31:31 | Victoria Hogg |
| 29 | 2022-09-22 14:06:47 | Victoria Sealey |
| 30 | 2022-09-17 15:21:04 | Edmund Legg |
| 31 | 2022-09-17 15:21:04 | Edmund Legg |
| 32 | 2022-09-17 15:50:05 | Lisa Roberts |
| 33 | 2022-09-17 13:17:57 | Teresa Ladbrook |
| 34 | 2022-09-20 21:31:22 | clare farr |
| 35 | 2022-09-18 22:57:13 | Joseph Clifford |
| 36 | 2022-09-21 05:55:40 | Emma Reeve |
| 37 | 2022-09-18 20:42:39 | Jeanette Anderson |
| 38 | 2022-09-22 14:27:19 | Lee Rae |
| 39 | 2022-09-17 14:38:27 | Justine Nos |
| 40 | 2022-09-17 16:19:38 | Victoria Rooke |
| 41 | 2022-09-17 16:43:59 | Bradley Lewis |
| 42 | 2022-09-21 20:51:30 | Aiden Kelly-Davis |
| 43 | 2022-09-22 12:31:18 | Victoria Sealey |
| 44 | 2022-09-22 14:53:46 | Keith Cheese |
| 45 | 2022-09-17 13:24:17 | Jade Legg |
| 46 | 2022-09-18 09:02:22 | Mark Lofthouse |
| 47 | 2022-09-21 23:29:42 | Riddock Suzanne |
| 48 | 2022-09-22 10:29:49 | Nicola Naylor |
| 49 | 2022-09-22 09:39:45 | Devon Mckenzie |
| 50 | 2022-09-18 14:29:56 | Shiv Siobhan Kirk |
| 51 | 2022-09-22 14:34:53 | Helen Cottrell |
| 52 | 2022-09-17 15:21:04 | Edmund Legg |
| 53 | 2022-09-20 21:14:02 | Lauren Kenny |
| 54 | 2022-09-17 12:30:59 | Sarah Frost |
| 55 | 2022-09-22 13:46:49 | C J |
| 56 | 2022-09-17 15:04:59 | Emma Northcott |
| 57 | 2022-09-17 20:00:25 | Sharon Bray |
| 58 | 2022-09-17 15:12:29 | Emma Northcott |
| 59 | 2022-09-22 10:55:37 | Carlos Loureto |
| 60 | 2022-09-22 13:28:01 | Mark Lofthouse |
| 61 | 2022-09-22 12:01:32 | Samantha Grice |
| 62 | 2022-09-22 13:45:23 | Stephen Hill |
| 63 | 2022-09-17 13:17:57 | Teresa Ladbrook |
| 64 | 2022-09-17 13:17:57 | Teresa Ladbrook |
| 65 | 2022-09-22 12:43:30 | Brogan Sandercock |
| 66 | 2022-09-17 22:25:22 | Mark Lofthouse |
| 67 | 2022-09-17 13:24:17 | Jade Legg |
| 68 | 2022-09-17 17:29:28 | Rachel Salloway |
| 69 | 2022-09-19 22:02:16 | Rachel Hayes |
| 70 | 2022-09-18 15:34:55 | Christine Swift |
| 71 | 2022-09-22 14:06:47 | Victoria Sealey |
| 72 | 2022-09-17 16:43:59 | Bradley Lewis |
| 73 | 2022-09-17 12:06:20 | Trudi Kim |
| 74 | 2022-09-22 14:01:45 | g Mv |
| 75 | 2022-09-18 21:52:03 | Lee Rae |
| 76 | 2022-09-22 10:01:04 | Olivia Tanner |
| 77 | 2022-09-17 15:21:04 | Edmund Legg |
| 78 | 2022-09-22 14:46:21 | Jane Hasni |
| 79 | 2022-09-17 15:08:29 | Emma Northcott |
| 80 | 2022-09-22 13:06:30 | Lisa Burgess |
| 81 | 2022-09-17 15:19:12 | Sam Harper |
| 82 | 2022-09-17 22:46:39 | Mark Lofthouse |
| 83 | 2022-09-17 18:33:17 | g Mv |
| 84 | 2022-09-17 13:24:17 | Jade Legg |
| 85 | 2022-09-17 13:24:17 | Jade Legg |
| 86 | 2022-09-17 22:25:22 | Mark Lofthouse |
| 87 | 2022-09-17 13:24:17 | Jade Legg |
| 88 | 2022-09-22 09:16:23 | Tiffani Bradshaw |
| 89 | 2022-09-17 14:37:35 | Cat F |
| 90 | 2022-09-21 14:28:22 | Jo Butcher |
| 91 | 2022-09-22 10:26:29 | Donna Cox |
| 92 | 2022-09-21 13:25:25 | Kayleigh Williams |
| 93 | 2022-09-17 16:12:22 | Rhiannon Batt |
| 94 | 2022-09-17 17:31:00 | Rachel Salloway |
| 95 | 2022-09-17 12:15:12 | Laura Paton |
| 96 | 2022-09-18 22:58:28 | Joseph Clifford |
| 97 | 2022-09-22 13:54:34 | Brogan Sandercock |
| 98 | 2022-09-19 00:07:18 | Natalie Anderson |
| 99 | 2022-09-22 12:38:06 | jemma Vooght |
| 100 | 2022-09-17 12:25:14 | Molly Watkins |
| 101 | 2022-09-18 10:48:26 | Catherine Marsh |
| 102 | 2022-09-20 11:38:26 | Rachel Williams |
| 103 | 2022-09-19 21:25:23 | melanie Burnay |
| 104 | 2022-09-22 13:52:21 | Georgia L |
| 105 | 2022-09-21 20:00:02 | Luci Watts |
| 106 | 2022-09-17 16:43:59 | Bradley Lewis |
| 107 | 2022-09-17 20:37:27 | K M |
| 108 | 2022-09-19 21:48:39 | Riah Alder |
| 109 | 2022-09-17 22:25:22 | Mark Lofthouse |
| 110 | 2022-09-17 12:25:55 | Gemma Pelley |
| 111 | 2022-09-20 10:26:37 | Agnes Newman |
| 112 | 2022-09-17 17:41:53 | Caroline Stemp |
| 113 | 2022-09-17 16:43:59 | Bradley Lewis |
| 114 | 2022-09-18 20:56:52 | Nicola Walker |
| 115 | 2022-09-21 20:51:30 | Aiden Kelly-Davis |
| 116 | 2022-09-17 13:17:57 | Teresa Ladbrook |
| 117 | 2022-09-21 21:05:01 | Debbie Smith |
| 118 | 2022-09-17 15:21:04 | Edmund Legg |
| 119 | 2022-09-20 11:48:50 | clare farr |
| 120 | 2022-09-17 11:17:00 | Tina Greenwood |
| 121 | 2022-09-17 13:24:17 | Jade Legg |
| 122 | 2022-09-17 12:07:31 | Jane Linehan |
| 123 | 2022-09-22 11:00:04 | Foghorn Gleghorn |
| 124 | 2022-09-22 07:57:28 | Katie Powell |
| 125 | 2022-09-18 18:25:09 | g Mv |
| 126 | 2022-09-17 16:43:59 | Bradley Lewis |
| 127 | 2022-09-17 15:12:29 | Emma Northcott |
| 128 | 2022-09-17 11:40:01 | Emma Smith |
| 129 | 2022-09-17 13:24:17 | Jade Legg |
| 130 | 2022-09-17 20:00:25 | Sharon Bray |
| 131 | 2022-09-21 09:33:02 | Annette M |
| 132 | 2022-09-17 15:17:03 | Sam Harper |
| 133 | 2022-09-22 09:06:59 | Leah Knowles |
| 134 | 2022-09-17 13:24:17 | Jade Legg |
| 135 | 2022-09-22 14:27:19 | Lee Rae |
| 136 | 2022-09-17 13:17:57 | Teresa Ladbrook |
| 137 | 2022-09-21 21:26:04 | Nicola Walker |
| 138 | 2022-09-22 12:16:05 | Mandy Cove |
| 139 | 2022-09-20 10:34:24 | SIMON GLEGHORN |
| 140 | 2022-09-18 14:33:14 | K Smells |
| 141 | 2022-09-17 15:17:03 | Sam Harper |
| 142 | 2022-09-17 15:21:04 | Edmund Legg |
| 143 | 2022-09-17 16:43:59 | Bradley Lewis |
| 144 | 2022-09-20 11:48:50 | clare farr |
| 145 | 2022-09-21 20:51:30 | Aiden Kelly-Davis |
| 146 | 2022-09-18 18:06:56 | Kerry Roach |
| 147 | 2022-09-21 23:29:42 | Riddock Suzanne |
| 148 | 2022-09-18 18:06:56 | Kerry Roach |
| 149 | 2022-09-17 15:04:59 | Emma Northcott |
| 150 | 2022-09-17 16:39:50 | Nicola Naylor |
| 151 | 2022-09-20 11:48:11 | tracey Norman |
| 152 | 2022-09-18 09:59:21 | Sarah Dennis |
| 153 | 2022-09-17 12:38:09 | Edmund Legg |
| 154 | 2022-09-22 14:31:56 | Steph Evans |
| 155 | 2022-09-17 13:24:17 | Jade Legg |
| 156 | 2022-09-17 13:17:57 | Teresa Ladbrook |
| 157 | 2022-09-21 15:01:24 | Victoria Sealey |
| 158 | 2022-09-21 23:09:36 | Jessica Stapley |
| 159 | 2022-09-22 14:50:49 | Jack Stelfox |
| 160 | 2022-09-22 14:06:47 | Victoria Sealey |
| 161 | 2022-09-17 13:17:57 | Teresa Ladbrook |
| 162 | 2022-09-17 16:34:55 | Tina Greenwood |
| 163 | 2022-09-22 14:04:52 | Lekel North |
| 164 | 2022-09-17 13:23:40 | Maxine Menhennett |
| 165 | 2022-09-17 12:25:14 | Molly Watkins |
| 166 | 2022-09-22 09:06:08 | Cat F |
| 167 | 2022-09-21 12:41:00 | Cheryl Szender |
| 168 | 2022-09-17 16:43:59 | Bradley Lewis |
| 169 | 2022-09-22 14:18:46 | Nicola Cobain |
| 170 | 2022-09-22 11:07:47 | Zoe Oldroyd |
| 171 | 2022-09-22 09:58:29 | Dana Southworth |
| 172 | 2022-09-22 09:30:07 | Dana Mills |
| 173 | 2022-09-21 15:24:10 | Juliet Phillips |
| 174 | 2022-09-17 15:21:04 | Edmund Legg |
| 175 | 2022-09-22 09:34:47 | Bradley Hervin |
| 176 | 2022-09-17 13:17:57 | Teresa Ladbrook |
| 177 | 2022-09-17 15:50:05 | Lisa Roberts |
| 178 | 2022-09-17 15:50:05 | Lisa Roberts |
| 179 | 2022-09-22 09:41:37 | Joseph Clifford |
| 180 | 2022-09-18 11:13:03 | Karen Harman |
| 181 | 2022-09-17 13:38:23 | Paula Horrocks |
| 182 | 2022-09-17 13:24:17 | Jade Legg |
| 183 | 2022-09-18 18:06:56 | Kerry Roach |
| 184 | 2022-09-17 11:17:53 | Leanne Fletcher |
| 185 | 2022-09-20 19:18:31 | Gemma Norgate |
| 186 | 2022-09-21 23:10:32 | Lisa Richards |
| 187 | 2022-09-17 22:25:22 | Mark Lofthouse |
| 188 | 2022-09-17 18:33:17 | g Mv |
| 189 | 2022-09-17 17:41:53 | Caroline Stemp |
| 190 | 2022-09-22 11:54:17 | Natalie Lewis |
| 191 | 2022-09-21 23:00:18 | Jessica Stapley |
| 192 | 2022-09-17 13:17:39 | Ryan kirby |
| 193 | 2022-09-17 16:43:59 | Bradley Lewis |
| 194 | 2022-09-17 15:04:59 | Emma Northcott |
| 195 | 2022-09-17 15:21:04 | Edmund Legg |
| 196 | 2022-09-17 13:17:57 | Teresa Ladbrook |
| 197 | 2022-09-17 13:17:57 | Teresa Ladbrook |
| 198 | 2022-09-17 21:53:34 | Clive Moxhay |
| 199 | 2022-09-22 11:47:45 | Debbie Harris |
| 200 | 2022-09-17 15:35:22 | Darryl Avery |