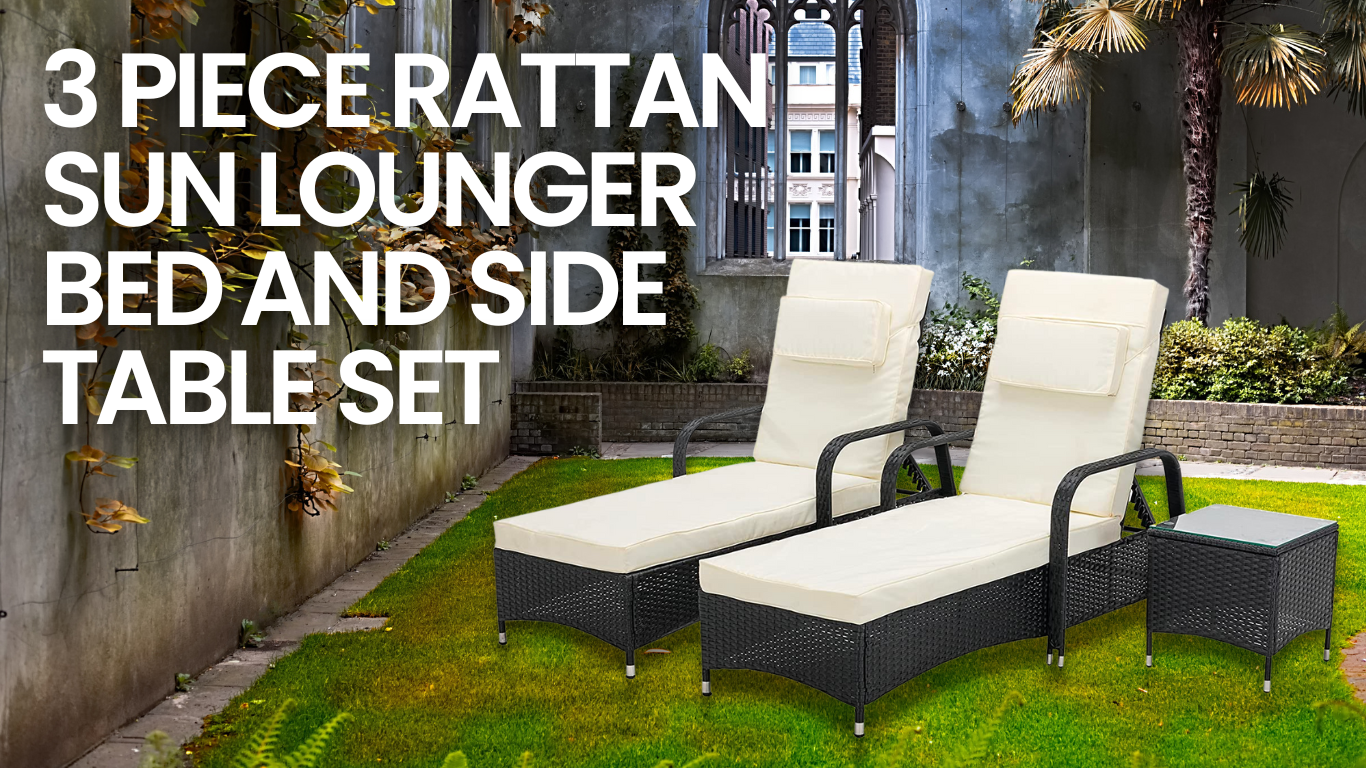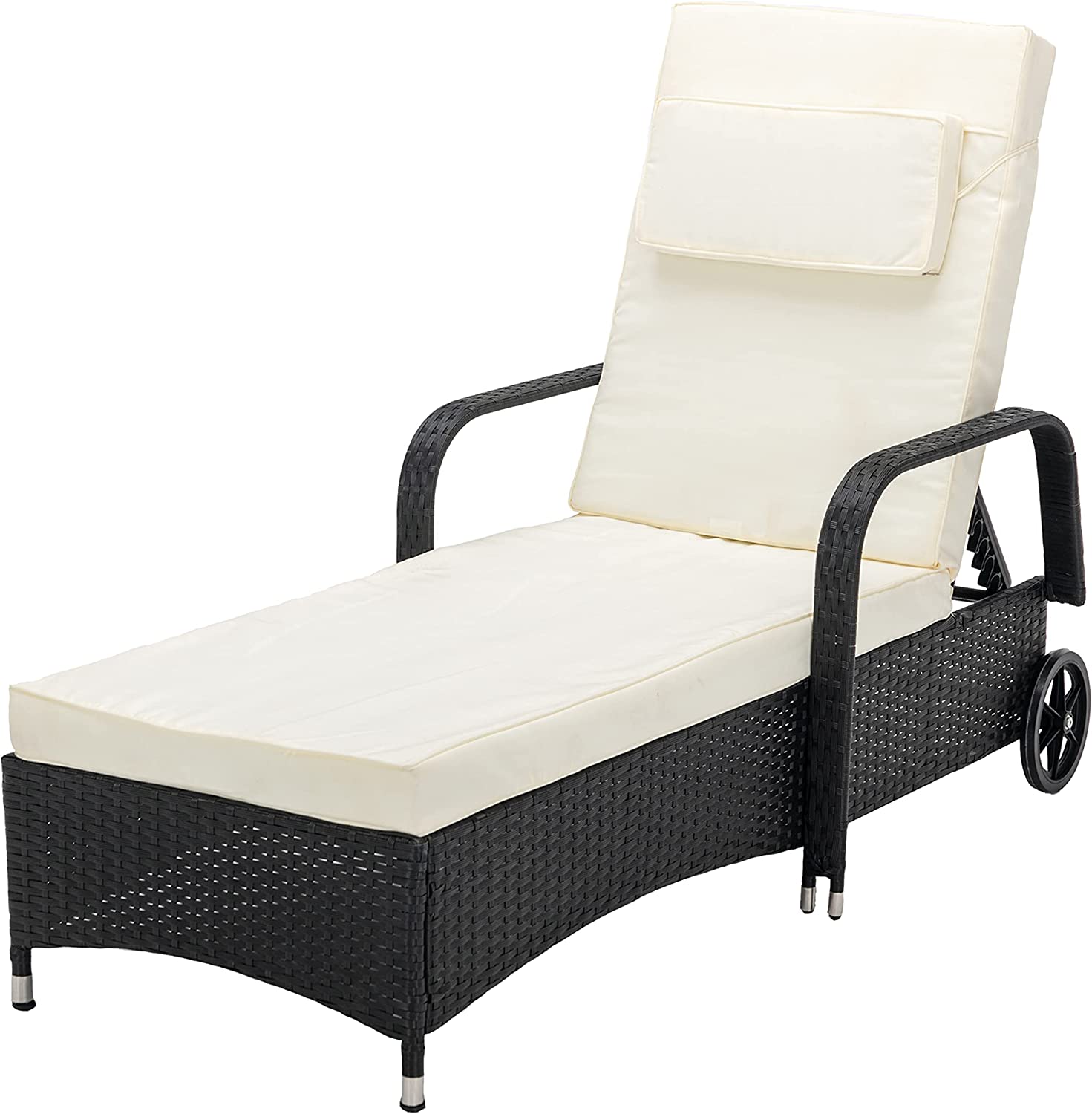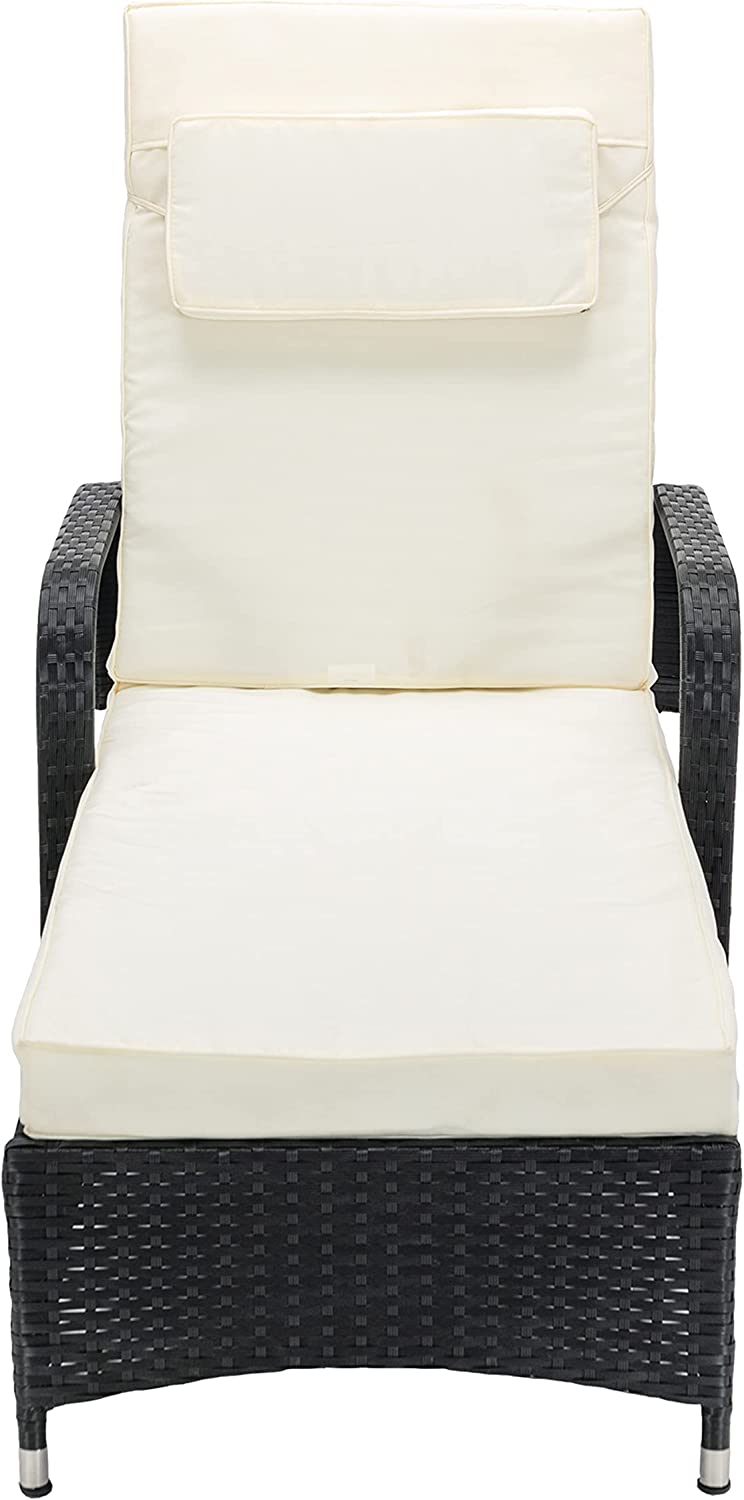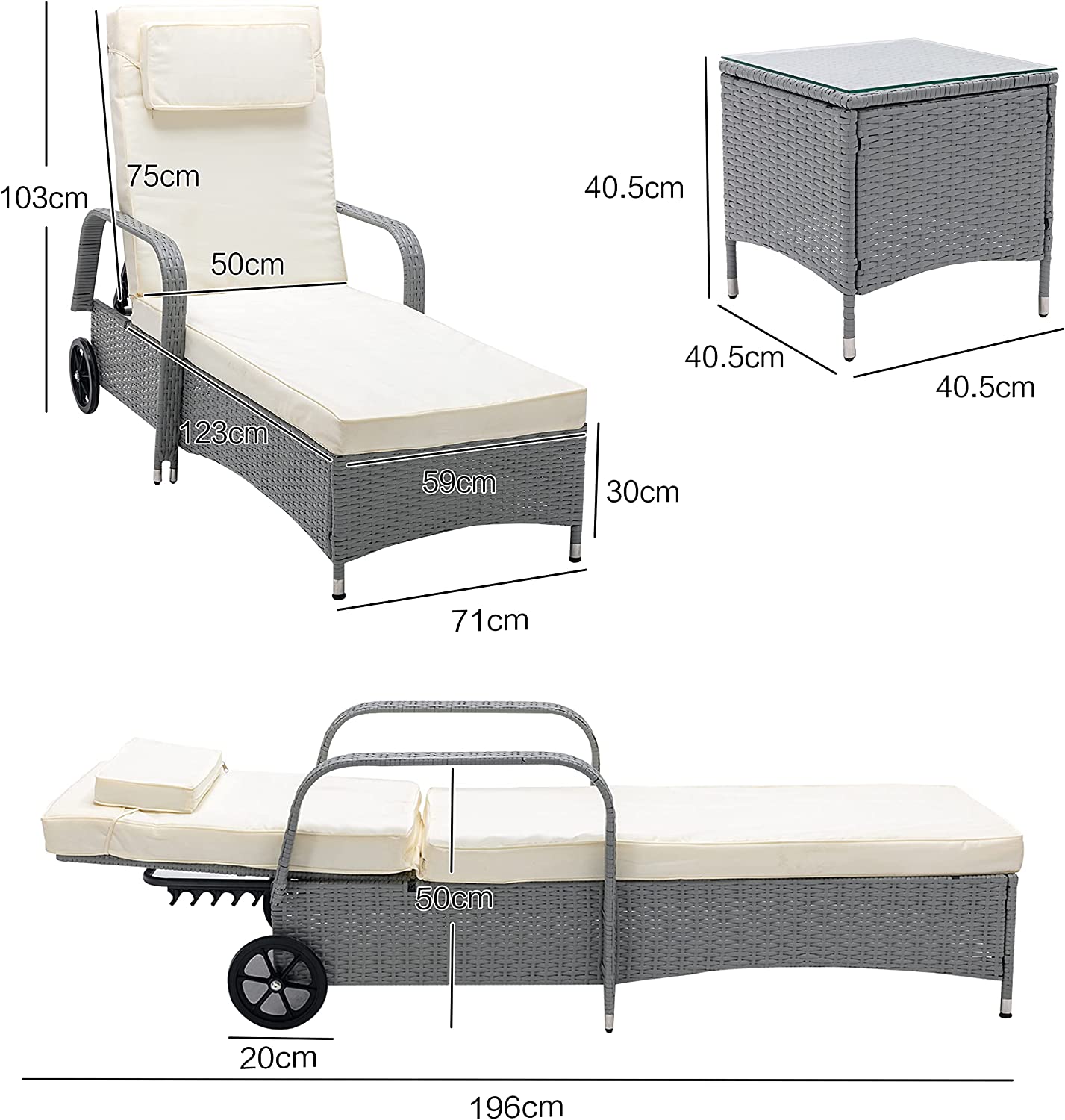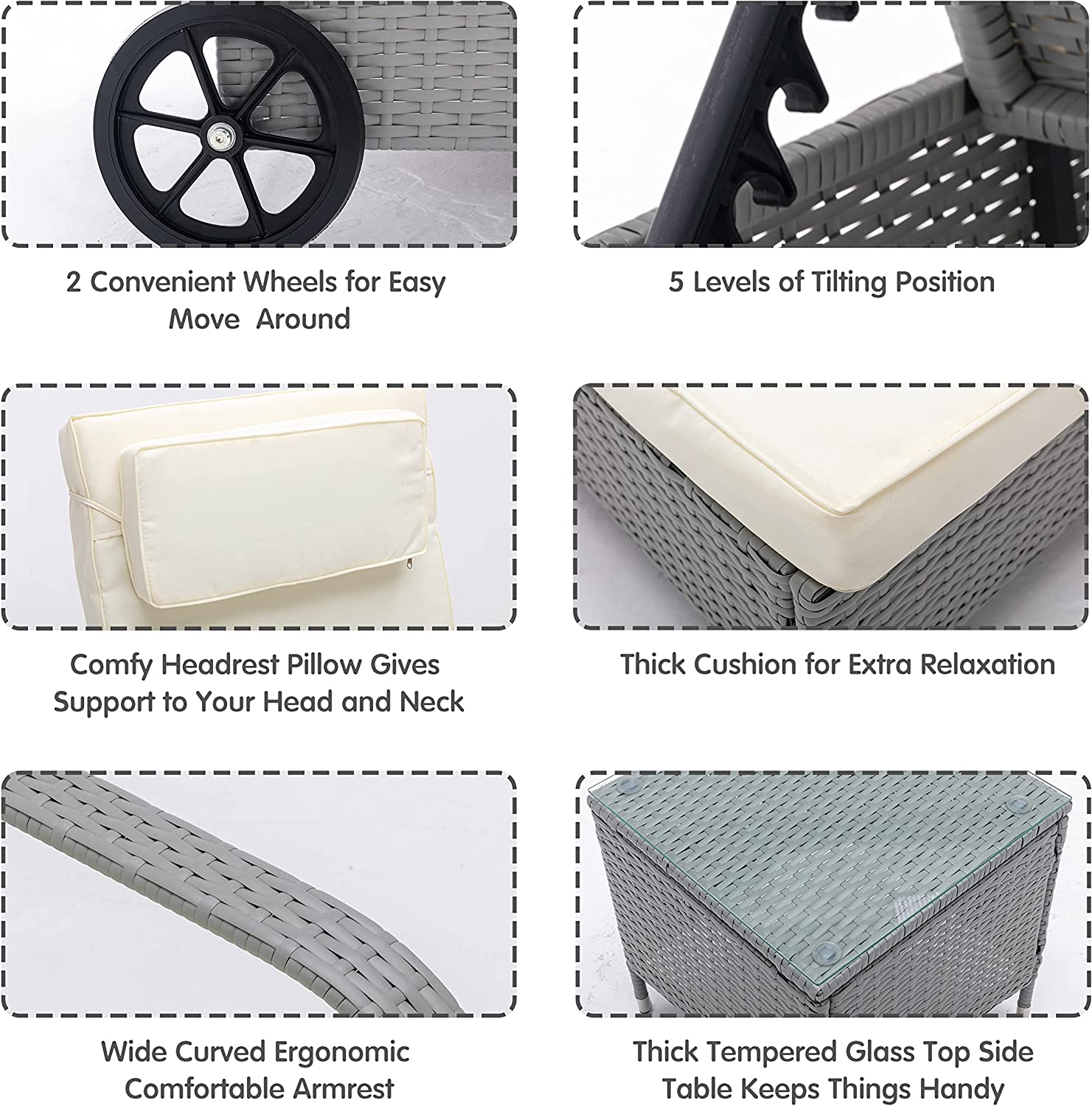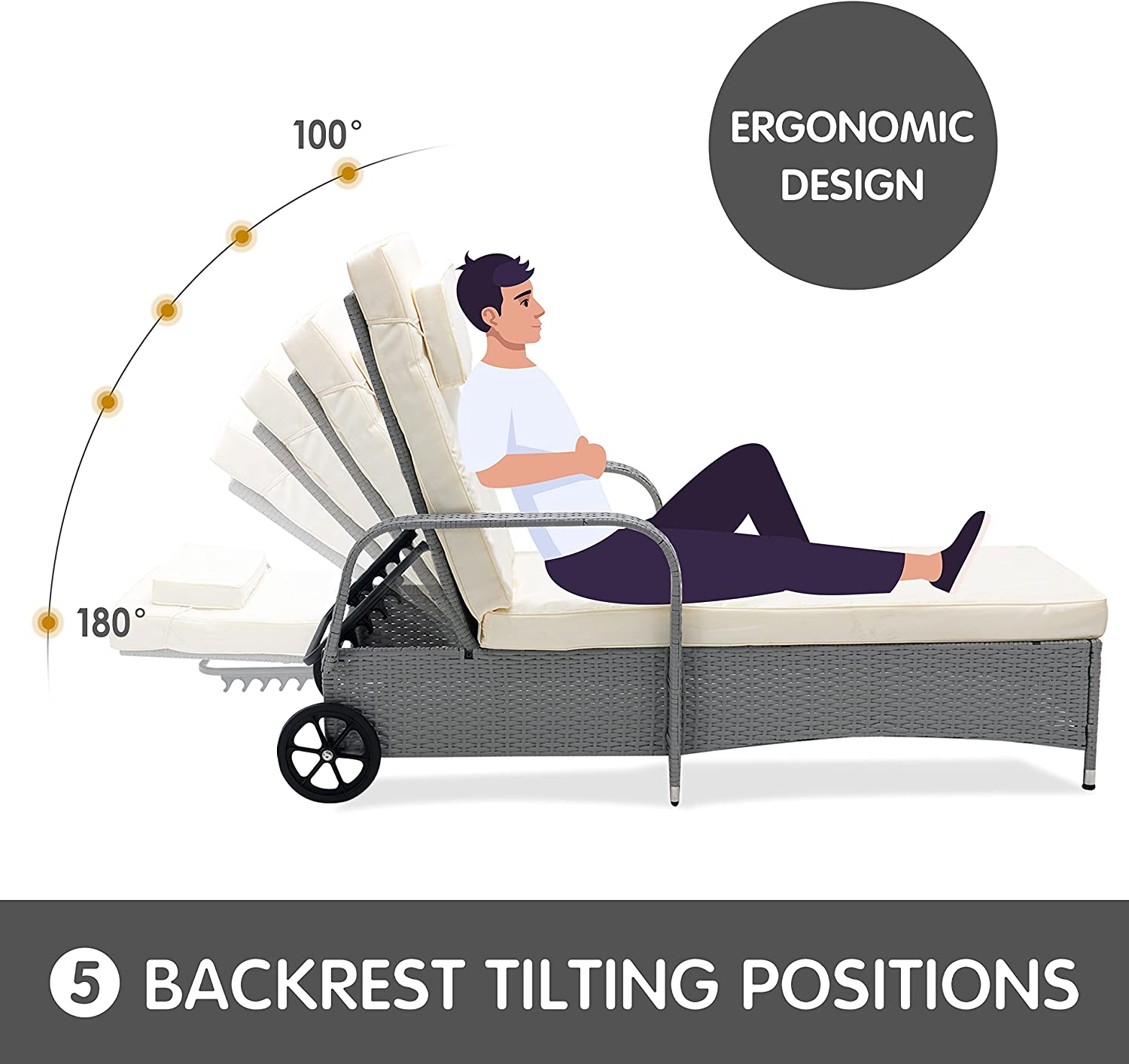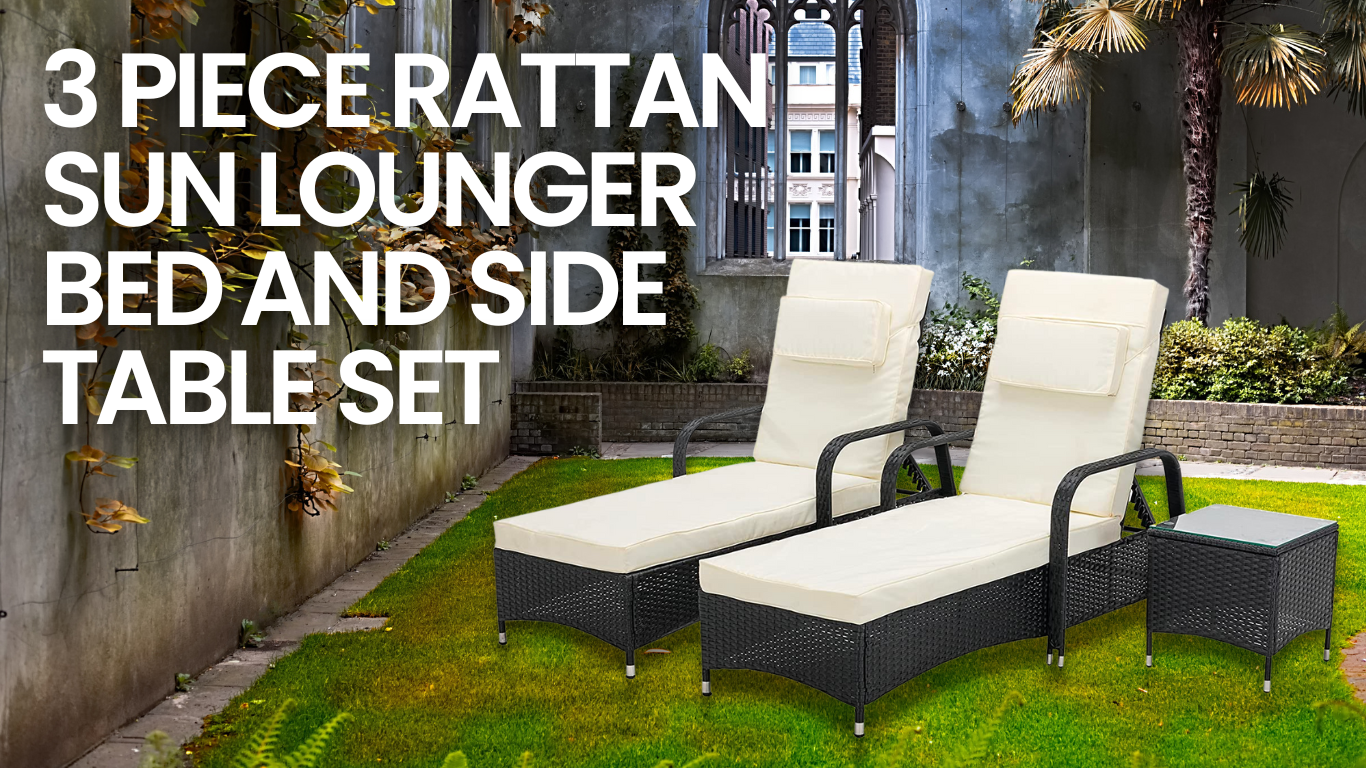 3 Pieces Rattan Sun Lounger Bed Recliner Outdoor Garden Chair & Side Table Set Venice (Grey)
Description
3 Pieces Rattan Sun Lounger Bed Recliner Outdoor Garden Chair & Side Table Set Venice (Grey)
URABLE MATERIAL: This MCC loungers are built from durable all-weather PE wicker on a sturdy non-rusting steel frame, makes it an ideal addition to garden, patio, park, poolside and more places.

ADJUSTABLE BACKREST: The lounge back can tilt at 5 different positions

THICK PADDED CUSHION: Our lounge chairs for outside come with quality polyester weather resistant cushions, that are thickly foam padded for extra comfort.

EASY TO CLEAN TABLE: This set comes with a tempered glass table-top table which is super easy to clean, convenient for your drinks, meals and other accessories.
| Winner Name | Ticket Number | Draw Date |
| --- | --- | --- |
| elizabeth guppy | 243 | 06/02/2023 |
1-100
101-200
201-300
301-400
401-500
| Ticket Number | Date | Name |
| --- | --- | --- |
| 1 | 2023-02-01 21:04:54 | Lisa Darragh |
| 2 | 2023-02-06 14:30:20 | jeanette rich |
| 3 | 2023-02-04 21:28:11 | Kaylie northcott |
| 4 | 2023-02-03 19:13:01 | Heather Baker |
| 5 | 2023-02-05 11:10:52 | Gary King |
| 6 | 2023-02-06 00:49:24 | Suzanne Riddock |
| 7 | 2023-02-05 13:53:05 | Katherine Jewell |
| 8 | 2023-02-03 09:38:58 | Helen Holloway |
| 9 | 2023-02-04 20:54:57 | Carley Down |
| 10 | 2023-02-01 19:37:13 | Amber Ley |
| 11 | 2023-02-03 08:21:25 | Catherine Marsh |
| 12 | 2023-02-05 17:32:26 | Helen Patterson |
| 13 | 2023-02-01 21:27:25 | Vicky Wesson |
| 14 | 2023-02-03 17:54:30 | Juliet Phillips |
| 15 | 2023-02-05 13:53:05 | Katherine Jewell |
| 16 | 2023-02-06 11:15:44 | Sonya Flack |
| 17 | 2023-02-02 13:11:59 | Sharon Foster |
| 18 | 2023-02-03 22:09:32 | Ben Stocker |
| 19 | 2023-02-04 17:02:52 | Kirsty Parris |
| 20 | 2023-02-06 15:33:27 | Kylie collins |
| 21 | 2023-02-02 07:36:24 | Lisa Roberts |
| 22 | 2023-02-06 00:49:24 | Suzanne Riddock |
| 23 | 2023-02-01 22:07:39 | Wesley Brown |
| 24 | 2023-02-03 08:07:20 | Sharon Foster |
| 25 | 2023-02-03 22:09:32 | Ben Stocker |
| 26 | 2023-02-05 20:11:30 | Emily Fleming |
| 27 | 2023-02-02 21:58:07 | Kerry Osman |
| 28 | 2023-02-03 09:38:58 | Helen Holloway |
| 29 | 2023-02-03 22:09:32 | Ben Stocker |
| 30 | 2023-02-04 12:01:25 | Lin Gilliam-Skinner |
| 31 | 2023-02-01 19:37:13 | Amber Ley |
| 32 | 2023-02-02 18:34:04 | Julia Webber |
| 33 | 2023-02-04 15:00:04 | Mrs Linda Grimshaw |
| 34 | 2023-02-06 13:34:01 | Lea Painter |
| 35 | 2023-02-03 16:18:22 | Julie Webb |
| 36 | 2023-02-04 12:56:48 | Janice Parker-Done |
| 37 | 2023-02-04 20:47:28 | Wendy Bailey |
| 38 | 2023-02-06 14:29:15 | Sharon Hobday |
| 39 | 2023-02-01 17:09:53 | Marion Child |
| 40 | 2023-02-01 17:22:33 | Jill Higham |
| 41 | 2023-02-06 14:29:15 | Sharon Hobday |
| 42 | 2023-02-06 14:29:15 | Sharon Hobday |
| 43 | 2023-02-06 12:57:40 | Julie Evans |
| 44 | 2023-02-02 21:39:15 | Hayley Ward |
| 45 | 2023-02-05 16:47:08 | Karen Mcveigh |
| 46 | 2023-02-01 16:55:16 | Rebecca vaughan |
| 47 | 2023-02-03 22:56:10 | Hayley Spears |
| 48 | 2023-02-05 15:48:49 | Nathan McCabe |
| 49 | 2023-02-04 22:12:03 | samantha dorling |
| 50 | 2023-02-04 15:00:04 | Mrs Linda Grimshaw |
| 51 | 2023-02-01 20:56:48 | Vikki Lee |
| 52 | 2023-02-04 12:56:48 | Janice Parker-Done |
| 53 | 2023-02-06 11:15:21 | Tammy Parsons |
| 54 | 2023-02-01 16:58:13 | Kerrie Parker |
| 55 | 2023-02-01 18:03:48 | Charlotte Ager |
| 56 | 2023-02-06 08:52:53 | Tracy Cramond |
| 57 | 2023-02-06 11:53:36 | Steph C |
| 58 | 2023-02-06 13:53:48 | Jordan Rowe |
| 59 | 2023-02-05 08:47:29 | Kelly Griffin |
| 60 | 2023-02-06 11:25:43 | Anne Mackay |
| 61 | 2023-02-06 12:57:40 | Julie Evans |
| 62 | 2023-02-01 19:37:13 | Amber Ley |
| 63 | 2023-02-03 08:21:25 | Catherine Marsh |
| 64 | 2023-02-01 17:13:43 | Jackie Dyer |
| 65 | 2023-02-06 01:52:28 | D T |
| 66 | 2023-02-06 14:54:31 | Lisa Sayers |
| 67 | 2023-02-06 13:45:39 | Elizabeth Halfyard |
| 68 | 2023-02-06 13:59:09 | Joanne Mahony |
| 69 | 2023-02-01 19:37:13 | Amber Ley |
| 70 | 2023-02-06 11:31:55 | Nini S |
| 71 | 2023-02-01 20:58:43 | Samantha Mirfin |
| 72 | 2023-02-02 20:12:53 | Robert Harman |
| 73 | 2023-02-01 16:55:16 | Rebecca vaughan |
| 74 | 2023-02-02 22:23:53 | Eddie Smith |
| 75 | 2023-02-06 15:02:05 | rita lockett |
| 76 | 2023-02-06 14:01:15 | Mrs Linda Grimshaw |
| 77 | 2023-02-01 16:54:12 | Jane wilson |
| 78 | 2023-02-06 17:17:18 | Amber Ley |
| 79 | 2023-02-06 15:08:01 | Katrina Gilley |
| 80 | 2023-02-03 16:51:26 | Kerry Bartlett |
| 81 | 2023-02-05 19:50:53 | Jo jo Jo |
| 82 | 2023-02-06 15:04:42 | Tracey Haines |
| 83 | 2023-02-06 09:20:19 | marion clark |
| 84 | 2023-02-06 13:37:05 | Hayley Miller |
| 85 | 2023-02-06 15:00:04 | Sasha Hine |
| 86 | 2023-02-05 09:21:18 | Louise Darke |
| 87 | 2023-02-06 12:41:07 | Nikki Stephens |
| 88 | 2023-02-06 15:42:37 | Sharon Longbottom |
| 89 | 2023-02-05 09:48:44 | Danielle Heryet |
| 90 | 2023-02-06 17:37:27 | Mark Trevillion |
| 91 | 2023-02-06 12:08:08 | Kirsty Kilkenny |
| 92 | 2023-02-02 21:54:54 | Debbie Smith |
| 93 | 2023-02-06 15:26:45 | KIM S |
| 94 | 2023-02-06 16:15:14 | Adam Rudge |
| 95 | 2023-02-06 11:27:22 | jasmin edwards |
| 96 | 2023-02-06 16:51:30 | Beverly Berryman |
| 97 | 2023-02-03 08:21:25 | Catherine Marsh |
| 98 | 2023-02-06 16:44:12 | Michelle Fewings |
| 99 | 2023-02-06 16:44:12 | Michelle Fewings |
| 100 | 2023-02-06 10:18:13 | Stacey Easter |