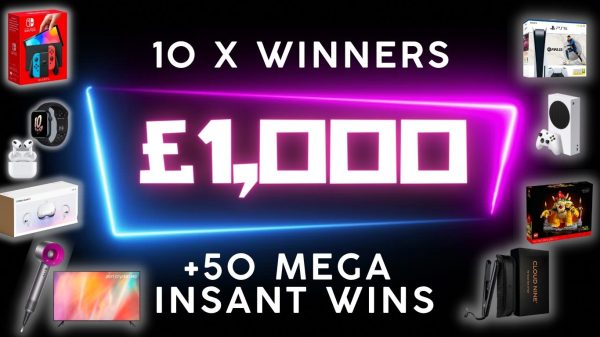 10 WINNERS WIN £1000 JACKPOT PLUS 50 MEGA INSTANT WINS UP FOR GRABS #6
Description
10 WINNERS WIN £1000 JACKPOT PLUS 50 MEGA INSTANT WINS UP FOR GRABS #6
DESCRIPTION
 10 WINNERS WIN £1000 JACKPOT PLUS 50 MEGA INSTANT WINS UP FOR GRABS
TEN winners will win £1000 tax free cash ( everyone will be entered into this, regardless if you win any instant wins!)
Simply enter the raffle and you will be randomly allocated your tickets. If your tickets match one of the numbers in the description below, you will win that prize instantly!
Ticket numbers are allocated randomly to every order.
IF YOU WISH TO EXCHANGE FOR CASH ALT ON ALL PRIZES ( EXCEPT FOR CASH PRIZES) IT WILL BE 80% OF THE PRIZE VALUE.
YOU COULD WIN MORE THAN ONE PRIZE INSTANTLY
Even if you don't manage to secure an instant win on this occasion you are still entered in with all your entries to our CASH MAIN PRIZE
Instant Wins
| Ticket | Prize | Winner |
| --- | --- | --- |
| 31 | £200 ASDA GIFT CARD | |
| 148 | NINTENDO OLED | |
| 256 | £200 one for all | |
| 292 | PS5 | Jordan Clark |
| 390 | DYSON HAIRDRYER | |
| 428 | £200 ASDA GIFT CARD | |
| 552 | £100 CASH | Steven Wheway |
| 689 | £200 ARGOS | |
| 703 | DYSON AIRWRAP | |
| 842 | APPLE AIRPODS PRO | Jack cockman |
| 916 | £500 IKEA GIFT CARD | Chelsea Knight |
| 1052 | HOTEL CHOCOLATE VELVETISER | Gary Morrish |
| 1174 | £100 CASH | T S |
| 1243 | XBOX S | emma edbrooke |
| 1318 | £300 SUPERMARKET VOUCHER | D T |
| 1389 | DYSON HAIRDRYER | Joanne Kirk |
| 1476 | £400 BOOTS GIFT CARD | |
| 1584 | META QUEST 128GB | |
| 1619 | £200 TESCO GIFT CARD | |
| 1653 | £300 NEXT GIFT CARD | |
| 1726 | SAMSUNG 50″ TV | |
| 1794 | £300 CASH | |
| 1863 | CLOUD 9 TOUCH | Lelaina Leworthy |
| 1971 | £200 TESCO GIFT CARD | Steven Wheway |
| 2001 | £100 NEXT GIFT CARD | |
| 2092 | SMEG KETTLE AND TOASTER | Nat cl |
| 2151 | DYSON CORRALE | T S |
| 2289 | £200 PRIMARK GIFT CARD | Candice Carrington |
| 2450 | DEWALT DRILL | Tess Clark |
| 2680 | £100 M&S GIFT CARD | N C |
| 2837 | LG 43″TV | Michael King |
| 3192 | JO MALONE GIFT SET | Katie Bennington |
| 3609 | OVER NIGHT STAY IN BATH | |
| 3732 | APPLE WATCH | Michael King |
| 4308 | £100 JOHN LEWIS GIFT CARD | Jordan Clark |
| 4957 | £200 CASH | Jane Sharland |
| 5333 | DYSON AIRWRAP | |
| 5467 | £100 CASH | |
| 5892 | £200 ASDA GIFT CARD | |
| 5965 | £100 SITE CREDIT | LJ Storer no |
| 6793 | £200 CASH | |
| 6691 | SAMSUNG 65 | |
| 6859 | £100 SUPERMARKET GIFT CARD | Rachel Dove |
| 7452 | DYSON HAIRDRYER | Lynda Mackenzie |
| 7495 | £200 JD SPORTS | Mollie Loughlin |
| 8326 | £100 CASH | Michael King |
| 8987 | DYSON HAIRDRYER | Jade-louise Foster |
| 9402 | LEGO SUPERMARIO 71411 | |
| 9578 | XBOX X | |
| 10345 | £500 CASH | |
| Winner Name | Ticket Number | Draw Date |
| --- | --- | --- |
| Sarah Snell | 612 | 13/10/2023 |
| k b | 2823 | 13/10/2023 |
| Lisa Roberts | 3017 | 13/10/2023 |
| Ben Chapman | 6732 | 13/10/2023 |
| Amy Smith | 243 | 13/10/2023 |
| Scott Pearce | 7803 | 13/10/2023 |
| Jordan Clark | 97 | 13/10/2023 |
| Harvey Morris | 4513 | 13/10/2023 |
| Philip Eddy | 10659 | 13/10/2023 |
| Neil Hellier | 7738 | 13/10/2023 |
1-1000
1001-2000
2001-3000
3001-4000
4001-5000
5001-6000
6001-7000
7001-8000
8001-9000
9001-10000
10001-11000
| Ticket Number | Date | Name |
| --- | --- | --- |
| 1 | 2023-10-13 20:39:32 | k b |
| 3 | 2023-10-13 05:40:44 | Maya Aston |
| 4 | 2023-10-13 20:35:18 | Kirstie Hughes |
| 5 | 2023-10-13 20:45:13 | Stacey Dymond |
| 8 | 2023-10-07 13:37:15 | Michael Gibbons |
| 16 | 2023-10-13 20:35:41 | Katrina OConnor |
| 17 | 2023-10-13 18:08:23 | David Chalkley |
| 19 | 2023-10-13 09:39:55 | Liane Keenan |
| 20 | 2023-10-13 16:25:13 | Molly Hurford |
| 22 | 2023-10-13 00:08:50 | Jason Matthews |
| 24 | 2023-10-11 12:17:05 | Jaine Hees |
| 25 | 2023-10-13 20:24:21 | Shona Hatch |
| 28 | 2023-10-06 14:56:56 | Sean Pye |
| 30 | 2023-10-13 20:39:26 | Kelly Reed |
| 32 | 2023-10-13 20:41:06 | Anna Benney |
| 34 | 2023-10-12 22:43:08 | Vikki Laws |
| 35 | 2023-10-12 06:49:00 | Laura Kate |
| 38 | 2023-10-13 14:10:58 | Jodie Southwell |
| 39 | 2023-10-06 23:46:22 | Emma White |
| 42 | 2023-10-06 16:10:42 | T S |
| 43 | 2023-10-07 17:08:54 | Suzanne Riddock |
| 51 | 2023-10-13 10:17:52 | Tina Jones |
| 52 | 2023-10-11 23:10:29 | T S |
| 54 | 2023-10-11 17:05:00 | Chantel Cowley |
| 55 | 2023-10-13 21:18:04 | Julie Woodmore |
| 56 | 2023-10-10 14:18:20 | Holly Kemp |
| 58 | 2023-10-13 20:49:15 | Jo Kestell |
| 59 | 2023-10-13 16:46:52 | Georgia Gardner |
| 60 | 2023-10-13 21:08:23 | D T |
| 63 | 2023-10-13 16:50:06 | Jacqueline Rees |
| 64 | 2023-10-07 13:10:15 | Tanya Horswill |
| 65 | 2023-10-13 20:40:20 | LJ Storer no |
| 66 | 2023-10-12 23:42:49 | A M |
| 67 | 2023-10-08 18:04:51 | Brooke Cheesmond |
| 70 | 2023-10-13 20:40:53 | Wendy OShea |
| 73 | 2023-10-06 16:20:55 | Ashley Hunt |
| 75 | 2023-10-13 19:46:35 | Charlie Georgina |
| 77 | 2023-10-13 10:53:12 | Shiv Siobhan Kirk |
| 78 | 2023-10-13 13:42:58 | Jason Lloyd |
| 80 | 2023-10-06 17:22:25 | Alan Steer |
| 82 | 2023-10-13 19:20:08 | Lisa Roberts |
| 83 | 2023-10-06 16:40:14 | atw. WHITE. |
| 87 | 2023-10-07 08:01:28 | Ben Vine |
| 89 | 2023-10-13 20:29:38 | Fliss Wright |
| 93 | 2023-10-08 15:16:09 | T S |
| 97 | 2023-10-13 16:16:34 | Jordan Clark |
| 99 | 2023-10-12 15:53:54 | Sarah Randall |
| 100 | 2023-10-11 22:18:27 | Lisa Glover |
| 101 | 2023-10-12 21:46:57 | Freya Welsh |
| 103 | 2023-10-12 13:33:41 | Livi Newton |
| 104 | 2023-10-13 13:32:51 | R H |
| 106 | 2023-10-13 21:12:02 | Lisa Donoghue |
| 110 | 2023-10-13 19:45:25 | Lynne Jones |
| 115 | 2023-10-13 17:47:03 | Samuel Wannell |
| 118 | 2023-10-10 15:04:10 | Sharon White |
| 120 | 2023-10-13 20:44:19 | Stacey Dymond |
| 124 | 2023-10-08 15:16:09 | T S |
| 125 | 2023-10-13 21:01:37 | Demi Broome |
| 126 | 2023-10-13 20:27:25 | Claire Symons |
| 127 | 2023-10-11 22:19:36 | Mark Lowe |
| 128 | 2023-10-13 21:11:39 | Pamela Forester |
| 132 | 2023-10-13 15:17:05 | Michael King |
| 134 | 2023-10-13 18:29:32 | J R |
| 136 | 2023-10-13 21:15:51 | Miss Kimberley Sharman |
| 138 | 2023-10-08 21:18:03 | Rachel Gilbert |
| 139 | 2023-10-13 16:55:30 | Holly Ring |
| 140 | 2023-10-13 21:06:57 | gayle willis |
| 142 | 2023-10-13 19:02:57 | Cameron Gaunt |
| 143 | 2023-10-13 20:27:41 | Laura Roche |
| 149 | 2023-10-13 16:28:19 | Shaun Parnell |
| 151 | 2023-10-11 21:37:17 | Marie Sandford |
| 152 | 2023-10-08 10:05:47 | Valerie Augusti |
| 154 | 2023-10-13 21:12:02 | Lisa Donoghue |
| 156 | 2023-10-08 15:40:16 | Samuel Wannell |
| 158 | 2023-10-13 10:58:11 | Suzi Gooding |
| 160 | 2023-10-13 20:54:30 | Sally Smith |
| 161 | 2023-10-12 19:05:18 | Emma Louise |
| 163 | 2023-10-13 16:01:29 | Nicola Larder |
| 168 | 2023-10-13 07:52:30 | Danielle Hooper |
| 171 | 2023-10-07 08:08:16 | Emma Lou |
| 172 | 2023-10-13 19:07:46 | Amy Daniel |
| 174 | 2023-10-13 20:19:07 | Dina Smart |
| 176 | 2023-10-13 13:35:14 | Becci Vayle |
| 177 | 2023-10-13 20:37:51 | Lauren Harlow |
| 179 | 2023-10-13 20:21:04 | Daniel Paddington |
| 180 | 2023-10-08 09:45:37 | Charlotte Brookbank |
| 184 | 2023-10-12 22:23:07 | Jess Fereday-Jones |
| 189 | 2023-10-13 06:42:41 | Marie Taylor |
| 190 | 2023-10-13 19:59:17 | Jackie Dyer |
| 194 | 2023-10-13 18:54:41 | Alice Berriman |
| 196 | 2023-10-13 11:34:24 | Amanda Royal |
| 197 | 2023-10-13 18:37:32 | Kate W |
| 198 | 2023-10-13 17:20:51 | D T |
| 199 | 2023-10-13 10:57:27 | Beth Lynn |
| 202 | 2023-10-13 10:20:27 | Nakita Finch |
| 203 | 2023-10-13 19:20:57 | Nina Henton-Waller |
| 204 | 2023-10-13 15:05:06 | Miss Kimberley Sharman |
| 208 | 2023-10-13 20:13:42 | Elizabeth Williams |
| 221 | 2023-10-12 07:29:28 | Lisa Glover |
| 222 | 2023-10-13 17:49:13 | Lucy Mclachlan |
| 223 | 2023-10-07 10:59:24 | Natalie Carey |
| 224 | 2023-10-13 13:06:38 | Harvey Morris |
| 226 | 2023-10-13 19:49:33 | Marissa Crowley |
| 228 | 2023-10-13 16:28:17 | Molly Hurford |
| 230 | 2023-10-13 18:03:43 | Jordan Clark |
| 231 | 2023-10-13 19:03:33 | D T |
| 232 | 2023-10-11 06:59:04 | Kirsty Messenger |
| 234 | 2023-10-11 13:07:43 | A.T W |
| 235 | 2023-10-13 09:46:17 | Emma & lee |
| 236 | 2023-10-13 20:26:21 | Kelly Moore |
| 238 | 2023-10-13 12:25:25 | Emma White |
| 243 | 2023-10-13 19:24:09 | Amy Smith |
| 244 | 2023-10-13 20:17:49 | Ashley Commins |
| 245 | 2023-10-12 20:28:27 | Gail. Gilbert. |
| 246 | 2023-10-13 20:36:02 | Kelly Shears |
| 249 | 2023-10-06 16:09:25 | T S |
| 250 | 2023-10-13 19:48:30 | Sharon Camp |
| 252 | 2023-10-13 19:08:39 | Abi Parnell |
| 261 | 2023-10-13 20:23:46 | Julie Soper |
| 263 | 2023-10-13 20:16:38 | Alison Percival |
| 264 | 2023-10-13 19:38:32 | Jordan Clark |
| 269 | 2023-10-13 20:38:03 | Jolene D |
| 271 | 2023-10-06 16:09:25 | T S |
| 275 | 2023-10-06 23:46:22 | Emma White |
| 279 | 2023-10-13 10:58:11 | Suzi Gooding |
| 280 | 2023-10-13 16:51:19 | Helen Holloway |
| 281 | 2023-10-06 23:46:22 | Emma White |
| 282 | 2023-10-13 20:11:32 | James Shaw |
| 286 | 2023-10-13 19:45:46 | Charlie Georgina |
| 289 | 2023-10-13 16:01:19 | Natalie Holding |
| 290 | 2023-10-13 17:17:10 | Jody Williams |
| 292 | 2023-10-13 16:18:26 | Jordan Clark |
| 296 | 2023-10-12 00:58:54 | Kerry Roach |
| 299 | 2023-10-12 11:58:11 | Jason Matthews |
| 303 | 2023-10-11 23:12:16 | T S |
| 306 | 2023-10-13 19:07:23 | Jaeton Nolan |
| 312 | 2023-10-13 20:20:47 | Cajun Clarke |
| 315 | 2023-10-11 23:14:45 | T S |
| 316 | 2023-10-13 17:48:39 | Lauren Ayre |
| 318 | 2023-10-13 16:26:02 | Andrew Winteridge |
| 321 | 2023-10-13 21:11:52 | Hi Janine Tidball |
| 322 | 2023-10-13 20:22:56 | Savannah Lee |
| 323 | 2023-10-13 20:54:42 | Jodie Jodie |
| 326 | 2023-10-13 20:46:18 | Lekel North |
| 327 | 2023-10-13 19:07:21 | Gary Morrish |
| 330 | 2023-10-13 14:00:56 | Jessica Pellens |
| 333 | 2023-10-09 23:41:45 | Kerry Roach |
| 338 | 2023-10-13 20:40:52 | daniel tooze |
| 341 | 2023-10-13 19:20:08 | Lisa Roberts |
| 344 | 2023-10-13 21:11:09 | Michael King |
| 345 | 2023-10-07 20:49:50 | S S |
| 346 | 2023-10-08 11:24:05 | Sophie Brown |
| 348 | 2023-10-11 23:13:43 | T S |
| 352 | 2023-10-12 10:07:53 | D T |
| 353 | 2023-10-13 20:43:09 | Stacey Dymond |
| 354 | 2023-10-13 20:10:18 | Tim Wright |
| 355 | 2023-10-13 20:18:58 | Hi Janine Tidball |
| 357 | 2023-10-06 19:38:04 | Sarah Wilson |
| 358 | 2023-10-13 18:51:27 | Lewis Warrior |
| 361 | 2023-10-13 20:21:53 | Kelsey Herriott |
| 362 | 2023-10-13 10:02:51 | Kc Ck |
| 370 | 2023-10-13 08:44:20 | Louis Trump |
| 371 | 2023-10-13 18:06:49 | Jodie Ellis |
| 372 | 2023-10-11 06:59:04 | Kirsty Messenger |
| 374 | 2023-10-13 20:05:46 | Mark Forrester |
| 375 | 2023-10-06 22:45:10 | S JR |
| 378 | 2023-10-06 22:37:21 | S JR |
| 379 | 2023-10-13 20:33:07 | Clive Mitchell |
| 384 | 2023-10-13 10:59:53 | Mike M |
| 385 | 2023-10-11 22:19:36 | Mark Lowe |
| 386 | 2023-10-13 08:13:37 | Gail Conway |
| 391 | 2023-10-13 20:15:43 | Helen Holloway |
| 392 | 2023-10-13 19:22:58 | Megan Maryon |
| 394 | 2023-10-13 20:18:03 | O Evans |
| 398 | 2023-10-12 01:50:59 | Mr Egon Longish |
| 399 | 2023-10-13 17:34:56 | Lathan Lashbrook |
| 400 | 2023-10-12 10:04:43 | D T |
| 401 | 2023-10-13 11:05:18 | Claire King |
| 402 | 2023-10-11 23:09:36 | T S |
| 403 | 2023-10-13 12:30:19 | Emma Louise |
| 404 | 2023-10-13 19:55:48 | Lynda Mackenzie |
| 406 | 2023-10-13 17:26:11 | Amy Lou |
| 407 | 2023-10-13 20:52:45 | Hannah Del-pizzo |
| 408 | 2023-10-07 17:21:55 | Vicks j p P |
| 409 | 2023-10-13 19:33:44 | Sarah Widdop |
| 411 | 2023-10-13 19:38:49 | N C |
| 412 | 2023-10-13 10:20:27 | Nakita Finch |
| 413 | 2023-10-13 11:34:12 | Ben Chapman |
| 415 | 2023-10-13 21:16:47 | Chelsea Knight |
| 417 | 2023-10-09 10:44:11 | Natalie Carey |
| 420 | 2023-10-13 20:25:27 | Dianne H |
| 422 | 2023-10-13 17:56:17 | Kylie Beer |
| 424 | 2023-10-13 20:34:50 | Lea Painter |
| 426 | 2023-10-07 07:35:21 | Sonia Jones |
| 429 | 2023-10-13 18:03:43 | Jordan Clark |
| 431 | 2023-10-06 14:56:19 | Heather Heale |
| 435 | 2023-10-13 16:22:33 | Emma White |
| 437 | 2023-10-13 07:25:49 | Stacey Howarth |
| 442 | 2023-10-13 07:31:53 | Leon Raymont |
| 445 | 2023-10-13 20:25:47 | Lynda Mackenzie |
| 446 | 2023-10-13 20:43:09 | Stacey Dymond |
| 447 | 2023-10-13 12:53:25 | Jo Pennington |
| 448 | 2023-10-13 15:20:37 | J R |
| 450 | 2023-10-13 17:36:00 | Jaine Hees |
| 451 | 2023-10-13 20:58:53 | Jamie Densham |
| 455 | 2023-10-13 18:03:43 | Jordan Clark |
| 456 | 2023-10-13 10:26:43 | Nakita Finch |
| 460 | 2023-10-13 13:44:42 | Abi Chalk |
| 461 | 2023-10-13 16:15:35 | Daniel Lillico |
| 465 | 2023-10-13 17:40:29 | Miss Kimberley Sharman |
| 466 | 2023-10-11 06:43:24 | Vicks j P |
| 469 | 2023-10-06 15:52:21 | Verity Dechan |
| 470 | 2023-10-07 10:26:05 | T S |
| 472 | 2023-10-13 18:45:59 | Louise Steer |
| 473 | 2023-10-13 18:22:28 | Lisa Glover |
| 474 | 2023-10-13 19:05:21 | Michael Morgan |
| 489 | 2023-10-07 23:08:51 | Amy Galley |
| 491 | 2023-10-13 21:11:39 | Josh Harrison |
| 497 | 2023-10-13 20:39:26 | Kelly Reed |
| 499 | 2023-10-13 18:06:35 | Nicola Taylor |
| 503 | 2023-10-07 12:44:04 | Darren Mclean |
| 504 | 2023-10-10 12:58:18 | Sabine Knowles |
| 508 | 2023-10-13 20:34:40 | J R |
| 509 | 2023-10-13 20:20:47 | Cajun Clarke |
| 511 | 2023-10-13 19:24:09 | Amy Smith |
| 513 | 2023-10-13 15:38:21 | Michael Jones |
| 514 | 2023-10-13 18:03:13 | Anne-Marie Daniels |
| 515 | 2023-10-13 10:58:11 | Suzi Gooding |
| 517 | 2023-10-13 17:01:50 | Clair Rouse |
| 520 | 2023-10-13 21:03:39 | Mike M |
| 522 | 2023-10-11 23:09:36 | T S |
| 525 | 2023-10-13 19:24:16 | Steph Sutherland |
| 527 | 2023-10-13 21:02:01 | Dean Brown |
| 528 | 2023-10-13 14:14:37 | Aleks Koszel |
| 530 | 2023-10-13 19:23:48 | Jade Summerfield |
| 544 | 2023-10-06 17:10:05 | Clare Norman |
| 545 | 2023-10-09 23:41:45 | Kerry Roach |
| 548 | 2023-10-11 23:45:19 | Lee Gable |
| 552 | 2023-10-13 18:55:21 | Steven Wheway |
| 554 | 2023-10-10 17:28:23 | Kiri Woodd |
| 558 | 2023-10-13 21:03:34 | LL BB |
| 562 | 2023-10-13 20:12:37 | Emma Louise |
| 563 | 2023-10-10 00:47:58 | Suzanne Riddock |
| 564 | 2023-10-12 11:57:48 | Jason Lloyd |
| 565 | 2023-10-13 09:08:26 | Lynda Buswell89 |
| 566 | 2023-10-13 16:08:27 | Maxine Claxton |
| 568 | 2023-10-11 23:12:16 | T S |
| 569 | 2023-10-13 10:06:44 | Rosie Apps |
| 572 | 2023-10-13 15:05:31 | Jake Mearns |
| 573 | 2023-10-10 12:21:35 | Christina H |
| 575 | 2023-10-13 21:13:48 | Lucy Grant |
| 578 | 2023-10-13 07:43:08 | Ruth Sargent |
| 579 | 2023-10-13 18:46:52 | Amy butchers |
| 581 | 2023-10-13 20:33:45 | Lisa Roberts |
| 583 | 2023-10-13 20:09:20 | Chloe Timms |
| 586 | 2023-10-10 19:40:02 | Jamie Richards |
| 590 | 2023-10-13 20:18:02 | Daniel Paddington |
| 592 | 2023-10-13 21:14:50 | Samuel Wannell |
| 595 | 2023-10-13 20:51:01 | Louise Caldwell |
| 597 | 2023-10-07 18:11:34 | Jamie Richards |
| 600 | 2023-10-13 20:14:35 | Mica Jeremiah |
| 601 | 2023-10-13 09:08:26 | Lynda Buswell89 |
| 602 | 2023-10-12 23:07:07 | Danielle McIntyre |
| 604 | 2023-10-11 23:10:29 | T S |
| 605 | 2023-10-13 20:11:36 | Katie Phillips |
| 608 | 2023-10-13 20:39:26 | Kelly Reed |
| 611 | 2023-10-13 21:13:44 | Jessica Pellens |
| 612 | 2023-10-13 19:21:22 | Sarah Snell |
| 613 | 2023-10-13 09:11:40 | Molly Chater |
| 616 | 2023-10-13 10:12:15 | Gail. Gilbert. |
| 617 | 2023-10-13 20:08:00 | Lauren Walker |
| 618 | 2023-10-13 19:55:50 | Stacey Karpinski |
| 619 | 2023-10-13 04:55:15 | Melissa Whittle |
| 620 | 2023-10-09 21:57:25 | Sam Pride |
| 622 | 2023-10-13 19:49:00 | Esmé Kershaw |
| 623 | 2023-10-13 03:14:09 | jan blackler |
| 630 | 2023-10-06 16:40:14 | atw. WHITE. |
| 631 | 2023-10-13 20:11:00 | Charlotte Tanner |
| 633 | 2023-10-12 21:51:00 | Reuben Wright |
| 634 | 2023-10-06 16:10:42 | T S |
| 637 | 2023-10-13 20:46:33 | S J Winstanley |
| 638 | 2023-10-13 19:36:35 | Lucy Fenner |
| 641 | 2023-10-13 13:56:28 | Rachael Irvine |
| 643 | 2023-10-13 11:36:54 | Ann-marie Johnson |
| 644 | 2023-10-13 20:35:28 | dale gardner |
| 645 | 2023-10-13 19:16:37 | John Huteson |
| 646 | 2023-10-13 20:55:28 | Sakib Abdal |
| 647 | 2023-10-13 19:47:02 | A.T W |
| 654 | 2023-10-13 19:20:50 | Laura Carr |
| 656 | 2023-10-13 20:50:01 | Jessica Pellens |
| 657 | 2023-10-08 11:24:05 | Sophie Brown |
| 660 | 2023-10-13 20:51:05 | Wendy Thompsett |
| 661 | 2023-10-13 17:27:09 | Jordan Clark |
| 664 | 2023-10-13 20:34:50 | Lea Painter |
| 665 | 2023-10-13 20:08:06 | Zoe Chard |
| 666 | 2023-10-13 19:25:52 | T S |
| 669 | 2023-10-13 20:28:26 | Channie Lamoon |
| 670 | 2023-10-11 18:31:26 | ML 73 |
| 672 | 2023-10-11 07:53:42 | Mike Lee |
| 674 | 2023-10-12 14:37:17 | Paula White |
| 675 | 2023-10-13 20:48:14 | Lynda Mackenzie |
| 677 | 2023-10-12 14:37:17 | Paula White |
| 680 | 2023-10-13 16:10:35 | Emma Lievesley |
| 681 | 2023-10-13 20:22:51 | Charlotte Smith |
| 682 | 2023-10-07 13:07:31 | Jeffery Moseley |
| 683 | 2023-10-07 09:13:10 | E L |
| 684 | 2023-10-11 22:19:36 | Mark Lowe |
| 685 | 2023-10-06 23:46:22 | Emma White |
| 687 | 2023-10-11 22:18:27 | Lisa Glover |
| 690 | 2023-10-13 19:05:34 | S H |
| 691 | 2023-10-13 19:41:43 | Ashley Metcalfe |
| 693 | 2023-10-13 21:02:36 | Ray Burgess |
| 694 | 2023-10-09 12:00:54 | Tracy Daniell |
| 696 | 2023-10-13 20:46:25 | N C |
| 701 | 2023-10-13 20:38:18 | Lea Painter |
| 702 | 2023-10-13 20:58:53 | Jamie Densham |
| 705 | 2023-10-13 20:39:26 | Kelly Reed |
| 706 | 2023-10-09 19:49:22 | Gail. Gilbert. |
| 708 | 2023-10-13 20:21:49 | Amanda Gerry-O'Connor |
| 711 | 2023-10-13 12:26:54 | Jasmin Bourne |
| 713 | 2023-10-13 20:20:20 | Andrew Way |
| 714 | 2023-10-07 01:24:00 | Iain Thomas |
| 717 | 2023-10-13 21:11:57 | Liane Keenan |
| 723 | 2023-10-13 19:15:23 | Hayden Andrews |
| 724 | 2023-10-07 13:07:31 | Jeffery Moseley |
| 727 | 2023-10-13 14:16:35 | Matt Morley |
| 728 | 2023-10-13 19:40:09 | David Pearcey |
| 729 | 2023-10-13 20:24:39 | Cindy Shapcott |
| 731 | 2023-10-13 18:44:54 | Julie Anvari |
| 732 | 2023-10-13 18:09:31 | J F |
| 733 | 2023-10-13 18:57:34 | Jodie Southwell |
| 734 | 2023-10-13 19:19:55 | Janet Shannon |
| 736 | 2023-10-13 20:43:09 | Stacey Dymond |
| 737 | 2023-10-07 10:26:58 | T S |
| 738 | 2023-10-06 15:32:12 | Kayleigh Wright |
| 739 | 2023-10-12 11:57:48 | Jason Lloyd |
| 740 | 2023-10-13 07:53:30 | Michael King |
| 743 | 2023-10-13 21:08:19 | Rachel Holley |
| 748 | 2023-10-13 19:53:42 | Lisa Lee |
| 749 | 2023-10-09 20:21:52 | Mark Saunders |
| 750 | 2023-10-11 23:12:16 | T S |
| 754 | 2023-10-13 19:36:59 | Barry Campbell |
| 755 | 2023-10-13 15:53:13 | Clare Jason-Ryan |
| 758 | 2023-10-13 17:27:17 | Tina Greenwood |
| 759 | 2023-10-13 16:19:08 | Molly Graham |
| 762 | 2023-10-13 18:41:25 | Daniel Floyd |
| 764 | 2023-10-08 21:06:06 | Jess Ellis |
| 765 | 2023-10-13 20:07:07 | Kallie Davies |
| 768 | 2023-10-13 12:25:30 | Jemma Edghill |
| 769 | 2023-10-08 18:56:08 | Jessica Pellens |
| 770 | 2023-10-10 13:16:58 | SF 3 |
| 772 | 2023-10-13 19:49:54 | Steph Elston |
| 773 | 2023-10-13 20:46:25 | N C |
| 774 | 2023-10-13 19:25:52 | T S |
| 777 | 2023-10-11 19:49:22 | Hayley Morris |
| 781 | 2023-10-13 18:42:56 | Natasha Mason |
| 782 | 2023-10-13 20:28:14 | Lynne Swift |
| 784 | 2023-10-13 12:45:38 | Kelly Thorne |
| 789 | 2023-10-13 18:56:14 | Graeme Bell |
| 792 | 2023-10-13 13:35:45 | Aisling Hind |
| 793 | 2023-10-08 22:45:08 | Jessica Pellens |
| 794 | 2023-10-12 09:23:26 | Jamie Douglass |
| 795 | 2023-10-09 18:47:55 | A.T W |
| 797 | 2023-10-13 19:24:09 | Amy Smith |
| 799 | 2023-10-11 03:03:29 | Jason Matthews |
| 800 | 2023-10-13 20:08:01 | Natasha Lawrence |
| 801 | 2023-10-13 19:04:15 | Steven Wheway |
| 804 | 2023-10-13 20:17:49 | Ashley Commins |
| 805 | 2023-10-13 20:39:26 | Kelly Reed |
| 806 | 2023-10-08 16:47:45 | Lisa Roberts |
| 808 | 2023-10-10 23:54:31 | Suzanne Riddock |
| 810 | 2023-10-13 19:51:23 | Steph Elston |
| 811 | 2023-10-08 10:05:47 | Valerie Augusti |
| 813 | 2023-10-13 20:18:47 | Jennifer Waye |
| 815 | 2023-10-13 21:15:37 | gayle willis |
| 816 | 2023-10-13 20:03:50 | Amy Shoyer |
| 818 | 2023-10-13 13:12:04 | Charlie Adams |
| 819 | 2023-10-13 20:28:05 | Debbie Sneap |
| 820 | 2023-10-13 13:11:22 | D T |
| 821 | 2023-10-11 21:31:48 | Chloe W |
| 822 | 2023-10-08 14:03:54 | S W |
| 823 | 2023-10-13 13:44:59 | Matt & Jen Hervin |
| 825 | 2023-10-09 02:47:35 | Dee Williams |
| 826 | 2023-10-13 18:19:06 | Jennie Barnard |
| 827 | 2023-10-13 15:25:31 | Robbie Lambert |
| 828 | 2023-10-13 20:12:05 | Isabelle Jones |
| 831 | 2023-10-13 19:07:21 | Gary Morrish |
| 832 | 2023-10-13 13:24:29 | Kayleigh Garrett ki |
| 834 | 2023-10-13 15:22:31 | Lauren Jeffery |
| 838 | 2023-10-13 20:45:13 | Stacey Dymond |
| 840 | 2023-10-08 16:49:29 | Daniel Smith |
| 841 | 2023-10-13 19:20:05 | Samantha Poll |
| 842 | 2023-10-13 13:10:37 | Jack cockman |
| 843 | 2023-10-13 21:03:39 | Mike M |
| 844 | 2023-10-13 21:04:10 | Andrea Ezard |
| 848 | 2023-10-13 18:53:00 | Jasmine Monnery |
| 852 | 2023-10-13 19:15:23 | Hayden Andrews |
| 853 | 2023-10-09 06:46:21 | Shannon Walters-Lait |
| 854 | 2023-10-13 20:11:33 | Joanna Peters |
| 855 | 2023-10-13 16:46:43 | Holly Stempkowski |
| 858 | 2023-10-09 17:04:00 | Paula White |
| 866 | 2023-10-13 19:32:02 | S JR |
| 868 | 2023-10-13 18:03:43 | Jordan Clark |
| 869 | 2023-10-13 20:36:08 | Wesley Brown |
| 870 | 2023-10-13 19:20:00 | Alison Crust |
| 876 | 2023-10-13 15:45:42 | Nakita Finch |
| 877 | 2023-10-07 19:27:51 | Vicks j p P |
| 883 | 2023-10-13 19:49:22 | Dee Williams |
| 884 | 2023-10-13 18:46:21 | Rebekah Morrison |
| 885 | 2023-10-13 20:40:21 | Kelly Reed |
| 886 | 2023-10-13 18:57:55 | Scott Wooll |
| 887 | 2023-10-13 21:01:43 | Lauren Ayre |
| 888 | 2023-10-13 18:46:58 | Tom Singleton |
| 890 | 2023-10-08 00:00:27 | Kerrie Burley |
| 893 | 2023-10-10 00:49:10 | Ryan Bowyer |
| 894 | 2023-10-07 16:33:00 | S JR |
| 895 | 2023-10-13 20:27:53 | Roxanne Cane |
| 896 | 2023-10-13 18:06:35 | Nicola Taylor |
| 898 | 2023-10-08 18:04:57 | James Bennett |
| 899 | 2023-10-13 19:51:01 | M Rowles |
| 905 | 2023-10-11 23:09:36 | T S |
| 907 | 2023-10-13 19:48:53 | Sharon White |
| 908 | 2023-10-08 10:05:47 | Valerie Augusti |
| 909 | 2023-10-12 20:21:35 | Julie Cleave |
| 910 | 2023-10-06 15:41:44 | Vicks j p P |
| 913 | 2023-10-13 16:55:30 | Holly Ring |
| 914 | 2023-10-13 19:07:21 | Gary Morrish |
| 916 | 2023-10-13 19:57:08 | Chelsea Knight |
| 917 | 2023-10-13 17:20:54 | Kate W |
| 921 | 2023-10-13 19:04:49 | Tara-marie Hirst |
| 923 | 2023-10-13 15:39:12 | H L |
| 925 | 2023-10-13 20:19:01 | Ashton Moore |
| 926 | 2023-10-13 16:20:35 | Mike Lee |
| 929 | 2023-10-13 16:01:19 | Natalie Holding |
| 930 | 2023-10-13 20:22:26 | Natasha Lawrence |
| 934 | 2023-10-13 15:25:31 | Robbie Lambert |
| 938 | 2023-10-10 19:59:27 | Emma Lou |
| 939 | 2023-10-13 20:51:01 | Louise Caldwell |
| 941 | 2023-10-13 08:43:33 | Deborah Boyd |
| 945 | 2023-10-13 11:34:12 | Ben Chapman |
| 948 | 2023-10-11 20:47:07 | Alannah Hatton |
| 950 | 2023-10-13 20:57:43 | Michael Ford |
| 952 | 2023-10-13 06:47:29 | Yvonne Tape |
| 953 | 2023-10-09 21:05:42 | Jay Sutton |
| 954 | 2023-10-13 17:54:36 | Eric Marsdon |
| 957 | 2023-10-13 19:20:50 | Laura Carr |
| 958 | 2023-10-13 18:03:43 | Jordan Clark |
| 961 | 2023-10-13 20:17:49 | Ashley Commins |
| 962 | 2023-10-13 20:45:20 | dale gardner |
| 964 | 2023-10-09 22:31:05 | Jeanette Glynn |
| 965 | 2023-10-11 23:09:36 | T S |
| 967 | 2023-10-13 20:08:48 | Jason Moore |
| 968 | 2023-10-12 23:46:10 | Kathryn Fone |
| 969 | 2023-10-13 20:15:19 | John Hale |
| 970 | 2023-10-12 14:39:05 | Paula White |
| 971 | 2023-10-08 18:56:08 | Jessica Pellens |
| 975 | 2023-10-12 13:01:42 | Laura Kate |
| 979 | 2023-10-13 18:49:46 | Penny Wickham |
| 980 | 2023-10-13 18:49:04 | Denise Kelly Cooper |
| 981 | 2023-10-06 21:48:51 | S JR |
| 982 | 2023-10-13 21:03:34 | LL BB |
| 983 | 2023-10-13 17:28:12 | Kate W |
| 986 | 2023-10-13 10:58:11 | Suzi Gooding |
| 988 | 2023-10-06 17:35:06 | Kayleigh Harvey |
| 989 | 2023-10-13 20:33:38 | Laura Holtby |
| 991 | 2023-10-10 09:20:37 | Darryl Nichols |
| 992 | 2023-10-12 13:49:49 | Holly Kemp |
| 993 | 2023-10-10 20:45:42 | Kate B |
| 997 | 2023-10-06 16:09:25 | T S |